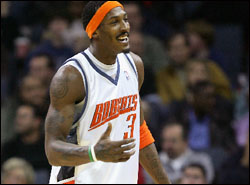 While the Eastern Conference playoffs may lack the volatility of the West in the first round, there are still all kinds of characters scrambling about looking to cause mayhem. There's something to be said about being in a series with no expectations, and underdogs looking to seize the moment can have a field day if only for a game or two.
Something, I think, is lost among the talk of difference-makers and x-factors; while such players would obviously swing the fortunes of their team in a particular series, x-factors also have the ability to significantly alter the playoff outlook in a loss.
Think Andre Iguodala against the Magic last year, as he led the upstart Sixers to an early series lead over the Magic. In doing so, he awoke the real Orlando, and the Dwight Howard took that team all the way to the Finals. Think Joe Johnson in 2008, whose Hawks took the Celtics to seven games in the first round. Does Boston go all the way to the title if not for their early, energizing battle with Atlanta?
Early playoff opponents can expose weaknesses to be exploited by later teams, wear down the opposition with a long series, or summon something within their opponents that drives them to further victories. All of these things are what make even the lesser Eastern Conference playoff teams interesting to watch, even if they don't stand much of a chance to take the series.
With that, I present you the players to watch in the East, who are capable of making an impact on the series level, or shaping the grander playoff picture:
Derrick Rose (Chicago Bulls): Rose showed in last season's playoffs that he's ready for the big stage. We shouldn't expect an equally scintillating team performance from the Bulls this year, but that doesn't mean Derrick isn't a must-watch player for every minute he's on the floor. Rose will be the first test for the Cavaliers' D, and I wouldn't be surprised to see Derrick poke a few holes in Cleveland's perimeter. His ability to run the pick-and-roll will also be crucial, as Rose can use Joakim Noah's quickness against the likes of Zydrunas Ilgauskas and Shaquille O'Neal, even if its less effective against Anderson Varejao et al. The Cavs are much improved in defending the pick-and-roll, but they could still suffer against finishers like Noah (who could set a precedent for Kendrick Perkins, Jermaine O'Neal, and Dwight Howard).
Gerald Wallace (Charlotte Bobcats): The Bobcats don't stand much of a chance to beat the Magic, but their upset hopes lie with Wallace. Gerald an All-NBA caliber defender, but the real reason he's on this list is because of his offense. Wallace seems to be a completely new offensive player this year, sporting a better jumper (especially from three) and a far smoother style than he's ever displayed before. He's always been an instinctive scorer, but now he's a more polished one. With Stephen Jackson's injured, the Bobcats' dismal offense will rely on Wallace more than ever, and whether or not his offensive improvements hold up against the Magic D is a big question mark.
Marvin Williams, (Atlanta Hawks): Marvin is the epitome of a traditional x-factor, but what he actually represents is balance. It's assumed that the Hawks should have no problem taking care of the Bogut-less Bucks in the first round, which means that Atlanta's most likely second-round opponent would be the Orlando Magic. Just as Wallace's singular brilliance could push the Magic, how would Orlando respond to a team of balanced scorers? The Hawks' roster is anything but top heavy, and their style on both ends of the court speaks to their versatility. Should Marvin be able to provide supplementary scoring to balance Joe Johnson, Jamal Crawford, Al Horford, Josh Smith, and Jamal Crawford, the Hawks could expose a weakness in Orlando's armor.
Michael Beasley (Miami Heat): Be easy, Mike Beasley. The Heat are a fantastic defensive team, and that should do two things: scare the hell out of the Celtics and give Miami a decent shot at the 4-5 upset. They don't even sniff a first round series victory without Beasley's help, though. Beas is a thoroughly confounding player, and though he has the raw offensive skills to really blitz Boston, he probably won't. It would just make too much sense for a player with that much talent to bother with capitalizing on it, and instead Mike will continue in his role as a wild card. However, should Beasley get into an offensive rhythm early in the series, he could help Dwyane Wade dismantle a Celtics defense that has struggled lately. Even if that doesn't usher the Heat into the second round, it could go a long way in erasing Boston's defensive prestige.