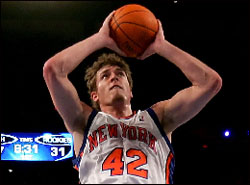 Knicks fans, remember what Joni Mitchell (or was it Adam Duritz?) tried to teach us: Don't it always seem to go, that you don't know what you've got 'till it's gone.
David Lee loves New York City. He's played there for five years, become an All-Star. He was their best player hands down, giving them 20 and 12 nightly this season. It's easy to see how he could be a good fit as the second or third option next to that superstar the Knicks are going to go out and get.
But the Knicks are going to have to pay. They chose not to make a move on him earlier, opting instead to keep the decks clear and have plenty of cap space so they could go out and get a superstar or two.
Now, he said there will be no hometown discount from Lee. The Knicks want him back, they are going to have to outbid everyone else on the market, as he told Alan Hahn of Newsday.
"There's been a chance, twice, to take care of that very thing."
Donnie Walsh and the Knicks knew this, it was a calculated risk as part of the rebuilding strategy. Lee can ball but this is New York and marquee names are needed. Losing Lee would be part of that price.
Don't it always seem to go…