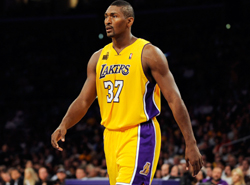 When the Lakers have the ball in their upcoming series with the Oklahoma City Thunder, the matchup to watch will be the battle on the perimeter between Kobe Bryant and Thabo Sefolosha. When the Thunder have the ball, the matchup to watch will be the one between Kevin Durant and Ron Artest, and it should be a good one.
With his lanky frame, incredible ball-skills, and silky-smooth stroke, Durant's offensive game is often compared to Kobe Bryant's. In practice, however, Durant's scoring game is much more similar to LeBron's than it is to Kobe's. Despite the fact that he couldn't lift the bar once at the NBA draft combine, Durant is as good as any player in the league at getting to the rim and finishing. Durant averages 5.3 shot attempts per game at the rim, and converts 69.8% of his shots from there. He also has one of the best pull-up games in the league from inside of 15 feet; Durant averages 4.9 jumpers from inside of 15 feet per game, and makes an impressive 47% of them. And of course, Durant gets to the line more than any other player in the league.
Despite his gorgeous shooting stroke, Durant isn't nearly as effective when forced to take deep jumpers as he is when he goes to the hole. Durant takes six deep twos a game, but only makes 37% of them. Durant is a good three-point shooter, but most of his threes come after one or two dribbles in isolation or off a catch-and-shoot situation. He rarely punishes the defender for going under the screen on the pick-and-roll; Durant has been the ballhandler on a pick-and-roll that ended in a shot attempt, free throws, or a turnover 189 this season, and he's only 2-15 from three in those 189 possessions.
Durant doesn't have the kind of ability to hit deep jumpers from any angle that Kobe does. (In the interest of fairness, the same could perhaps be said about any other player in the league.) If you can keep Durant from getting into the teeth of the defense off the dribble in ISO situaions, his only recourse is launching a three from two or three feet beyond the arc or taking a deep two that he's not very comfortable making. One thing that makes Durant so dangerous is that he's just as comfortable spotting up or coming off a screen as he is getting the ball in an ISO situation. Since opposing players shoot 30% against Ron Artest in ISO situations, you have to imagine that Oklahoma City will attempt to keep Durant on the move and find ways to get him points without making him battle Artest.
There's the matchup on paper. How has Durant fared against Artest in the Thunder's four meetings with the Lakers this season? Let's take a look:
Game 1:

This was a tough game for Durant, who shot 10-24 from the field and turned the ball over seven times. He only had one ISO possession in the entire game, and that was an end-of-quarter possession. The Thunder tried to remove Durant from Artest by giving him screens and putting him on the weak-side, but Artest stayed attached all night. Of Durant's four baskets in the paint, two came off offensive rebounds, one came courtesy of a nice James Harden dime in transition, and one came when Artest gambled for a steal attempt while Durant was going backdoor.
Durant never got enough space during the Thunder's first meeting with the Lakers. When he tried to catch and shoot, Artest bothered his shot and forced the miss. When he tried to put the ball on the floor and turn the corner, he went right into the waiting Laker defense and turned it over. If the Lakers play defense like this come playoff time, Durant and co. are going to be in for a very long series.
Game 2:
This was another tough game for Durant, who finished 8-20 from the field and only shot one free throw. The Lakers went up big early in this game and never relinquished the lead, and that seemed to have discouraged Durant. He didn't have one recorded ISO possession that led to points, and he spent most of the game jacking up quick catch-and-shoot attempts, most of which missed their mark. Of his four makes in the paint, two were in transition and one came when he put his own miss back in.
Game 3:
The Thunder fell to the Lakers again in this game, but Durant looked worlds better. He was making much better and harder cuts to free himself up, looked much more confident attacking off the dribble, and the Thunder did a good job mixing up how they got him the ball. Durant was able to get past Artest a number of times in a variety of fashions on his way to an 11-18 shooting night.
Game 4:
This was the game the Thunder blew the Lakers out in Oklahoma City, but Durant actually didn't do anything all that terribly different. He did go ISO a few times, but missed a quick-trigger jumper every time he did. He had his greatest success when he cut hard to the basket or attacked off the pick-and-roll, getting layups or easy pull-up jumpers a few times by moving without the ball.
After watching all of Durant's possessions against the Lakers this season, here's what pops out at me: the most important part of the possession has come before Durant catches the ball. When Durant catches it out on the perimeter with Artest in his vicinity, he hasn't been able to do much. When he gets it on the move or catches the Laker defense scrambling, he's been deadly. The Thunder will need to find ways to free up Durant for good looks, and Durant is going to have to commit himself to being aggressive with his movement and cuts off the ball. When the playoffs start, the most interesting battles between Durant and Artest may happen when nobody is watching them.