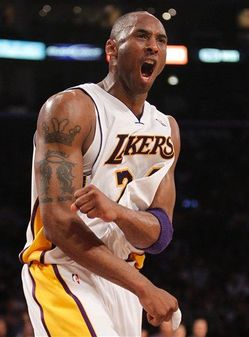 Last season, one of the reasons the Rockets were able to take the eventual champion Lakers to a seventh game was the defense Shane Battier played on Kobe Bryant. Kobe got his points, but Battier's hounding defense forced Kobe to work for each and every one of them, and it was a thrilling battle to watch. 
In this year's playoffs, Bryant and the Lakers have a first-round date with another very good defensive team featuring a defensive specialist on the perimeter. The Thunder were a top-10 team in defensive efficiency this season, in large part because Thabo Sefolosha has emerged as perhaps the league's best perimeter defender. Thabo's combination of tenacity, athleticism, and length have earned him the unofficial title of "the next Bruce Bowen," although though Sefolosha can't knock down open threes as well as Bowen could. 
On the other side, there's Kobe Bryant. Not only is he one of the best offensive players of all time, but he's one of the few perimeter players who can destroy a team without needing to blow by his initial defender. With his series of pull-ups and post moves, Kobe is capable of scoring 30 points without taking it hard to the basket once. That means more one-on-one battling then you'll see in any other superstar vs. stopper matchup this playoffs. 
"The last time the Thunder played the Lakers, on March 26, Sefolosha had one. During the 22-plus minutes that Sefolosha guarded Bryant, Kobe made exactly one field goal, and that was an end-of-shot-clock special. For the game, which the Thunder won, Bryant finished with 11 points on 4 of 11 shooting and committed a career-high-tying nine turnovers. Afterward, he even admitted that Sefolosha had bothered him. Copping to weakness? Now this is not the Kobe we've come to know and (pick your choice) love/detest/grudgingly respect/name our firstborn after.

No doubt, Bryant will use that game as fuel for the playoffs. As you read this, he's probably holed up somewhere, masochistically watching film of Sefolosha while chanting whatever mantra Kobe chants when he's doing some serious self-improvement. And as a result Bryant will likely come out focused and dangerous, which in years past would have led to a ritual thrashing of his opponent.

This year, I'm not so sure."
On paper, this certainly doesn't look all that good for Kobe. His team is coming into the playoffs without any momentum to speak of. He hasn't been fully healthy all year, and had one of the worst statistical seasons of his career. He's not old yet, but he's not getting younger either. Now he has to go up against an ultra-tough, ultra-hungry team of young guns who feature the best perimeter defender in the game. However, if there's one thing NBA fans know, it's that counting out Kobe is a very, very bad idea. As bad as this matchup looks for Kobe and the Lakers, I'd be shocked if Kobe didn't end up going off for at least one or two signature performances before the series is over.