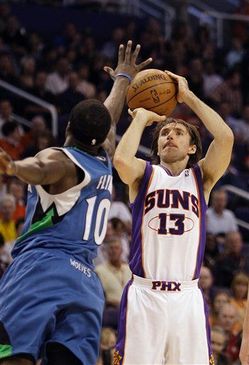 Well, well, well, look who's back from the dead. 
The Suns are the… ahem… I apologize for this in advance… hottest teams in the playoffs. Shooting the lights out, causing turnovers, blocking shots, the works. Steve Nash is leading the league in assists, again. He's shooting 50-40-90, again. Amar'e Stoudemire is back to dominating, and they have a core of young bigs who can defend, rebound, and hit from the outside, causing matchup problems. So how are they going to make a playoffs run? 
1. Punish the punishers: A favorite tactic teams have emulated from the Spurs against Nash is to have the defending guard go under the screen, then grab Nash's wrist, just for a minute. It's so slight, it avoids a call, but not only slows down Nash, but tweaks his back at the same time. The Suns need to counter this with a significant screen. Send a message. You mess with Nash, you reap the whirlwind. 
2. Get Amar'e in space: Stoudemire is deadly from 15 feet, especially right now. In addition to the pick and roll, the Suns should send their forwards low to draw defenders low which will open up Stoudemire from range. 
3. Get the Boy Wonder Healthy: Robin Lopez has a bulging disc in his back and his status for the playoffs is uncertain. If the Suns' magical trainer team can speed the young man back to health, that will help them out to a huge degree. Though their draw means they won't be facing teams stacked with big, tough defenders, they still need help in controlling the glass and attacking low. And Lopez' presence helps to take emphasis off Stoudemire.