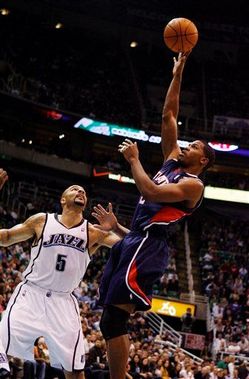 Atlanta, even as the three seed, even with a sweep over Boston, even with a win against Orlando, even for as great as they've been at times, still enter as the unknown, silent partner of the NBA playoffs. 
Which is a shame, because they may feature the most balance in terms of talent of any team in the postseason. They have a dynamic power forward that can dominate at both ends of the floor. They have the rare elite shooting guard in Joe Johnson, and the sixth man of the year in Jamal Crawford. Their big man, Al Horford, was an All-Star. But still no one expects much of them. 
Here's how the Hawks can raise the bar and then smash their ceiling with it. 
1. Get J-Smoove involved. Josh Smith's improved play has been incredible. If the Hawks get him the ball and get him involved in the flow, he can not only produce points, but open up the offense for teammates. He feeds off his involvement and that boosts his production. The Hawks should focus on getting Smith in the post against weaker power forwards and feeding him off curl screens to penetrate on bigger defenders. As long as Smith stays away from shooting from mid-range, and continues to attack, the Hawks will be in good shape. 
2. Control the glass: The Hawks feature one of the best rebounding schemes in the league. Al Horford isn't the most physically gifted player, but he has that ability to simply make it to the ball that you can't teach. Combine that with Smith's athleticism and Zaza Pachulia's size and you have a a team that can dictate possessions against any team. 
3. Release the Joe-Ken!: Joe Johnson can destroy his own team with too many ISO sets. But when he's locked in, he can take over a game like few players in the league. The Hawks have to be willing to live with Johnson absorbing possessions in pursuit of that ability because there's nothing more demoralizing than Johnson crossing your best defender up and draining a mid-range. Let Joe be Joe.