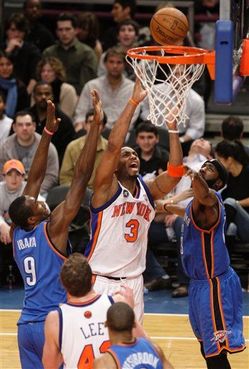 Word is out from the Knicks: Tracy McGrady will not suit up tonight for the Knicks in their season finale tonight against the Raptors. That's good news for the Bulls' playoff hopes — since McGrady joined the Knicks, New York is 4-0 in the games he has sat out.
It also means that McGrady's time as a Knick is over. Management there has quietly said they are not inviting him back next season.
McGrady flashed moments of his legendary skills, albeit slightly diminished, but also showed he has a ways to go to fully recover from his last surgery. McGrady has said he still thinks he can be a starter, a contributor on a quality team. He is likely to find the reality this summer quite different. Just another interesting summer subplot.