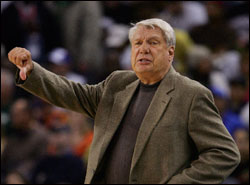 It has just been assumed that this was Don Nelson's last season — he's the NBA's all-time winningest coach but has seemed to have lost the passion for the job. He drinks with players. He has alienated key players (Monta Ellis) and woefully misused others (Brandan Wright, Anthony Randolph, Anthony Morrow, to name a few).
Plus, this Warriors team is bad. It will have 25 wins. The team has been bad for several season — all with a Don Nelson picked power structure makeing the calls. It's all on him. Time to retire to Maui for Nelson. (Which frankly sounds pretty good.)
But before last night's game Don Nelson said he wants to come back and coach this team next season. General Manager Larry Riley said there are no plans to fire Nelson. (Thanks to the Mercury News)
In my mind, no. I mean, it would take something that would be uncharacteristic or an oddity.

He's done a really good embracing this bunch, particularly down the stretch. And I'm convinced that his health is back to where it's no longer an issue. In fact he looks as good to me as he's looked in a good while.
Nelson small-ball style has worked better the second half of the season, coincidentally timed with the rise of Stephen Curry and the finding of some quality D-LEague players to fill out the roster. Well, not so coincidentally. Still, with no inside presence to speak of, this Warriors roster was not going to win a lot of games even if Red Auerbach rose from the dead to coach them.
But this is still on Nelson — it was his cronies that shaped this roster. It's poetic justice he has to coach it. But coach it he shall, because his cronies are not about to fire Nelson.
One little catch in this — owner Chris Cohan is selling the team. A new owner (hello Larry Ellison) likely will come in and clean out the front office, putting his own general manager in charge. And a new general manager will want his own coach. Nelson's power base will be gone. He will be gone.
If that happens, Nelson falls back to Plan B — Maui. Did we mention that doesn't sound so bad?