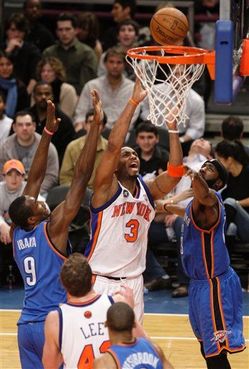 The Knicks don't want him. His knee is still acting up. How much of a market there will be for him this summer — and how much will those teams offer — are big questions.
But don't tell Tracy McGrady he may need to take a lower-paying role and come off the bench next season. McGrady will have none of that, as he made very clear to FanHouse
"I haven't fallen off that f*****g much," McGrady said before a morning workout. "I don't see myself in a sixth-man role, either. I've been hurt, but I'll be fine by next season. This just takes time…"
"This last month or so, I've had some ups and down — a lot of downs — but I'm progressing faster than expected," he said. "The hardest part (of rehab) is over. It's just now getting stronger, getting used to being on the court again."
After watching Allen Iverson refuse to accept a role with several teams in the past couple years and causing huge distractions wherever he went, then reading those comments, you hope that we are not about to see the same movie.
McGrady may be just 30, but coming off microfracture surgery and playing little in recent years, he moves right now like an old 30. The Knicks don't want to really start him, and their guard roster does not impress. That said, there is a role for him in the league running the second unit of a team — maybe a contending team. Doing what Manu Ginobili or Lamar Odom have done to help lead teams to titles. There is no shame is this, if your ego can accept it.
McGrady's ego may be in for a surprise this summer (although one never wants to underestimate the bad contracts NBA teams are willing to shell out). Teams saw a version of this movie recently, and they are going to want to avoid the sequel.