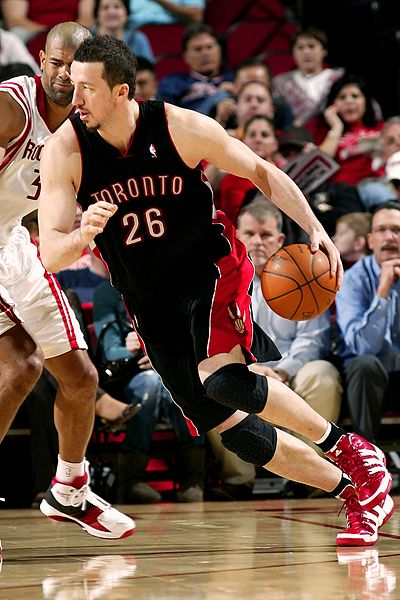 To begin: it's not Hedo Turkoglu's fault that he was overvalued on the free agent market. He's not to blame for the fact that the Trailblazers and the Raptors wanted to pay him oodles of money to do what he does.
Now, what is Hedo's fault is just how poorly he's played. Some of that is a matter of talent and skill, which makes painfully apparent the fact that Turkoglu really isn't that great of a player. A fine, serviceable player, sure, but one with inflated value by an Orlando system that put the ball in his hands an incredible amount of the time. Even then, his shooting touch is good not great, his passing skills decent but not terribly impressive, his defense slightly above average on his more motivated days.
Then some of his problems are psychological. He'll park along the perimeter on possession after possession. He makes a half-assed attempt to cover a pick-and roll. He goes out drinking with old pal Mehmet Okur when he's supposedly recovering from a stomach illness, and sits out of practice the next day. He refuses the advice of team doctors, and didn't wear a protective mask until ordered to do so by the team.
You know what? All of that is because Hedo Turkoglu is Hedo Turkoglu. He may not have always been this much of a caricature of himself, but the Raptors are getting what they signed.
The surprising thing is that for as badly as Hedo has played this season, things could actually get worse, and likely will next year. From Tania Ganguli of the Orlando Sentinel:
You'll recall the Magic used to have a guy named Hedo Turkoglu. The
Turkish forward, now with the Toronto Raptors,  spent so much time
playing, even outside the NBA season, it wore on his body, [Otis] Smith said.

"They play more basketball and they never stop," Smith said of
European players. "When I had Turk it was hard. They never get a break.
He played 7 years straight before he missed his first Turkish
basketball. He gets no rest. We rested him, I think Toronto rested him
this year. But your body gets no rest."
So this season, in which Turkoglu generally looked uninspired and out of shape, will be followed by Hedo's off-season commitments to the Turkish national team. Then he'll return to training camp, the preseason and the NBA grind, and the Raptors can only hope that Otis Smith's comments don't serve as an omen. If this is the rested Hedo, what can Raps fans reasonably expect from him next season?
It's a perfect storm for Toronto: Chris Bosh walks, the Raps should have minimal cap space if any, Jay Triano (a decent, though admittedly less than stellar coach) is rumored to be on the outs, the Raps won't have a first round pick in the draft should they make the playoffs (it's lottery-protected, but would go to Miami thanks to the Jermaine O'Neal trade), and the nearly unmovable Hedo Turkoglu will set himself up for another letdown campaign. Purchase your 2010-2011 Raptors season tickets, available today!