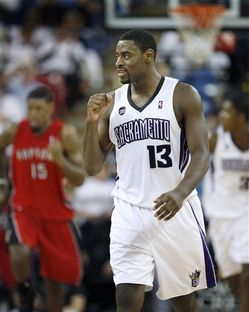 Tyreke Evans is a man among boys in the rookie class and a couple months back everybody knew he was going to win rookie of the year going away. Which he should — he's close to averaging 20 points, 5 rebounds and 5 assists per game. The only other rookies to do that are Oscar Robertson, Michael Jordan and LeBron James.
Evans is elite, but voters are fickle. Brandon Jenning's team started winning, and Stephen Curry started hitting a lot of shots, and ROY became a debate again. As if getting drafted on to a better team should matter in the award. Or if consistency over a season shouldn't count for something. But whatever, voters have their reasons.
But let it be know, media members, Tyreke Evans really, really wants your vote and said so to the Sacramento Bee.
"It's like, '20-5-5,' " he related, with a slight headshake. " 'You gotta get it.' People tell me I need this many rebounds or that many points. But … the Rookie of the Year Award is the one I want, and I want to keep getting better. When I come back next year, I'm going to have a midrange jump shot."
It's the last sentence that should impress — he knows what he needs to take the next step and is going to focus on it. Which will not be easy because is going to get pulled a lot of directions as the front man for the Kings marketing campaign. But you sense a focus around this man.
A decade from now, we'd look back and scoff at the voters if anyone other than Evans won this. In a rookie class with a surprising number of good guards, Evans is the elite. He is the potential superstar. He is the savior of a franchise and may help keep them from moving.
Plus, he really, really, really wants the ROY award.