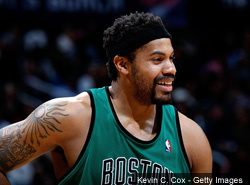 Last summer Boston needed to do something, anything, to try and prop the championship window open a little longer. Rasheed Wallace was something. A guy with title pedigree, who maybe could join the fountain-of-youth-gang in Boston and give them one more big run. At least that was the dream.
Of course, if the team fell short Wallace became an obvious scapegoat.
Even before the season, the goals for the team were unreasonably lofty. ESPN's Bill Simmons does not speak for all Celtics fans, but he was part of the bar-setting going on back before the season.
Am I excited about Sheed turning Boston into the biggest ref-baiting, trash-talking, fan-unfriendly, swaggeracious (I just made up that word) NBA team since the 1992 Knicks? Actually, not really… If it's a 67-win team, then, yes. I will put up with it… But if it's a 54-win team that looks old on back-to-backs, seems like more sizzle than steak, can't figure out its roles, and spends too much time in petty little battles with opponents and refs (and by the way, Doc Rivers was the No. 1 ref-baiting coach in the league last year), then no, it's probably not a good thing. So we will see.
So all they had to do was win about 67 games and be in line for a title? Totally fair. They just had to win more games than the 2008 title Celtics team (66). By the way, since the 2000-01 season there has been one 67-win team, Dallas the year they got knocked out in the first round. So very reasonable standards.
Which, of course, the aging Celtics did not meet. Ray Allen got cold, Kevin Garnett got slow and Rasheed was Rasheed. They aren't going to get to 54 wins.
Fans are frustrated, and Wallace gets to be the scapegoat.
Simmons teed it off with a column this week:
Sheed will finish the 2009-10 regular season next week as my least favorite Celtic ever, edging out Todd Day, Fred Roberts, Sidney Wicks, Curtis Rowe and Vin Baker. At least Vinnie had an excuse: a drinking problem. Sheed has an apathy problem. His doughy, nonchalant shadow looms over every game.
The best/worst part (depending on your feelings about the Celtics) is Wallace has two more years on his deal after this one.
That led Zach Lowe of Celtics Hub to ask the real question:
Aren't you dying to know more about the internal debate that led to the signing? As I said before, Sheed's statistical profile hid nothing. It showed him to be an aging player on a steep, steep decline toward retirement. Before you even had to think about the technicals, the way he bashed Flip Saunders and quit on Michael Curry, all of the attitude issues–before any of that–you had a black-and-white statistical profile of a nearly washed-up player.

There must have been someone in the Celtics organization that said no, right?
Desperate times lead to desperate signings. This was a desperation move by the Celtics that has worked out like every level-headed observer would have guessed. Sheed is on the downhill side and the decline is picking up speed. The Celtics ignored the signs.
The only silver lining is Boston fans will have him to scapegoat for a couple more years.