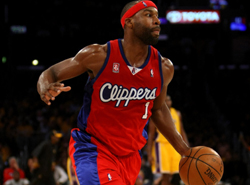 For two seasons now, Baron Davis has been the square peg in the round hole of the Clippers.
Davis thrived in the wide-open system of Don Nelson — remember that Baron leading the charge against Dallas? — but has struggled in the, slow-it-down, button down world of Mike Dunleavy, the former coach and general manager for Los Angeles. Boom Dizzle's beard was about the most interesting thing about him.
Davis told the Los Angeles Times he wants the chance to lead this team.
"Last year was kind of Dunleavy's thing," he said. "This year was [Chris] Kaman's team, so hope that next year they'll give me a chance to put my full thing on display."
Hopefully his whole thing involves fewer pull up threes early in the clock.
While Davis has been constrained by the system, he has also had the ball in his hands a lot, and made a lot of bad choices. He is far from blameless in the plight of the Clippers the last two years. He plays a disinterested brand of basketball for large stretches, letting the game dictate to him what was going to happen then taking charge like he suggested.
There are always excuses — next year this might be Blake Griffin's team, or some free agent yet to be named. But it can be Davis' too, he just has to grab it. A team gets to be yours because you take it, not because it's given to you.