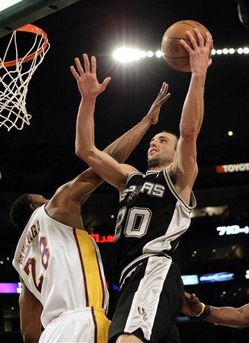 All of the fretting over the Spurs future? All of the debates over Manu Ginobili's place in the 2010 free agent class? All of the discussion over how much Manu Ginobili is worth? It could all be silenced, because according to Adrian Wojnarowski of Yahoo Sports, Ginobili and the Spurs "are close to reaching an agreement" that would keep Manu in San Antonio for three more seasons and put about $40 million in his pocket.
Given Ginobili's resurgence, the move was a no-brainer. Manu obviously features prominently into the Spurs' plans for the future, even if they try to reboot the formula that made them championship contenders for the last decade. The show just doesn't run without Ginobili, and the Spurs are quite aware of not only how much Manu means to the franchise as a talent, but also as a fit. San Antonio would be hard-pressed to find another great wing player that meshes as well with Tim Duncan and Tony Parker, that an operate as efficiently in the Spurs' system, or that could come close to matching the long-lasting relationship that Ginobili shares with Gregg Popovich.
Keeping Ginobili with the Spurs makes all kinds of sense, even if he does turn 33 this summer.