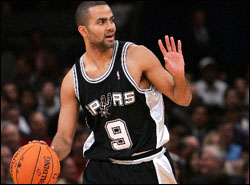 Yesterday, Gregg Popovich didn't have an idea who would play the point for the Spurs tonight. Suddenly, they found someone. Someone really, really, really good.
Tony Parker has been cleared to play and will suit up tonight for the Spurs when they take on the Kings, according to a release from the Spurs themselves. So we can probably trust it.
Parker has been out 16 games with a broken hand. Sixteen games in which time the Spurs have played some of their best ball because Manu Ginobili has taken the weight of the franchise on his shoulders. But come the playoffs, they need to spread the scoring around a little, and having the quick Parker and his little floater in the lane back will be a big help.
George Hill is out with a sprained ankle and will not be able to back up Parker. Who should is Ginobili, and San Antonio needs to keep using the Argentine on that high pick and roll where he destroyed the Lakers Sunday.