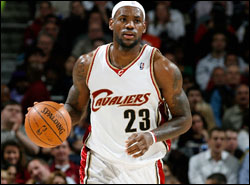 Did Kazaam teach us nothing?
Apparently not, because LeBron James is attached (to use the industry lingo) to a Malcolm D. Lee ("Undercover Brother," "Soul Men") comedy called "Fantasy Basketball Camp." The Hollywood Reporter has the details (hat tip to Ben Maller).
Originally written by Babaloo Mandel and Lowell Ganz, the story centers on five men who come to Las Vegas to live out their fantasy by attending the LeBron James Adult Basketball Camp only to end up dragging James into their various life issues.
Yes, his name is Babaloo. Let that soak in for a minute. He's been writing since he worked on Happy Days. Seriously. I can't make this up.
The script for the LeBron vehicle is currently undergoing a rewrite. Which means one of two things in Hollywood: 1) It had depth and nuance that some kid three years out of USC film school thinks could damage the opening weekend box office so he wants it to be dumbed down and to have more scenes with tits; 2) It actually sucked. You be the judge on this one. Peter Steinfeld, who gave us "21," is doing the rewrite.
With the long history of NBA players making great movies, this should be a can't miss.