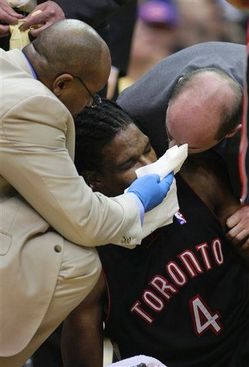 UPDATE 11:54PM: Matt Devlin reports on behalf of the Raptors that Bosh has a broken face. No, seriously, he has a fracture on his face. He's out indefinitely. This is a terrible development for Bosh and the Raptors, and if he misses significant time, it could spell the end of any dim hopes for playoff success. Plus, you know, he broke his face.
8:32 pm: Just two minutes into Toronto's game with Cleveland (a potential first round matchup), Chris Bosh took an inadvertent elbow to the right side of his face from Antawn Jamison, one that dropped Bosh to the ground.
Bosh was bleeding from the mouth and nose. He has left the game and has been taken to the Cleveland Clinic for further tests. He will not return to this one.
Toronto is in a fight for the eighth and final playoff spot in the west with Chicago. The two teams face each other Sunday.
Updates to follow as we get them.