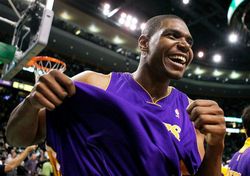 Andrew Bynum has never met a healing timetable he liked.
Last season the Lakers waited and waited and waited on their big man to return from a serious knee injury and got about 50 percent of his game back for the playoffs. That turned out to be enough.
Not going to be enough this time around. Not in getting past Dallas and Denver (if they get back Kevin Martin) in the West, certainly not in getting past Shaquille O'Neal in Cleveland or Dwight Howard in Orlando for the Finals. The Lakers need stud Bynum back.
And his little Achilles tendon injury — the one thought to be minor, the one that two MRIs have showed no tear with — continues to heal on its own schedule. A slow schedule. Phil Jackson after practice he's not playing the timetable game (via the omnipresent Brian Kamenetzky at Land O' Lakers):
"I'm just not holding my breath on a timetable," he said. "We just haven't been able to put a timetable on it. It's going to take some time, and we just don't know when (he'll be back). Obviously we'd like him to play a couple of games at the end of the regular season, but this morning I told him if that's not possible we'll take whatever we can get in the playoffs at that time."
Not nearly the same serious injury as last year, but for Lakers fans the feeling must be eerily familiar. And this time around, half a Bynum will not get it done.