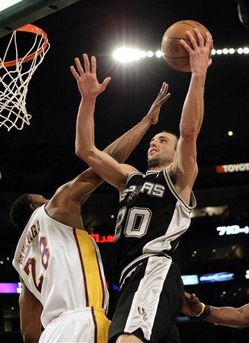 Everyone knows who the big targets this summer will be: LeBron James, Dwayne Wade, Chris Bosh, Amare Stoudemire (provided he opts out), Joe Johnson, and Rudy Gay, in roughly that order. Cap space has been cleared, articles have been written, baseball caps have been analyzed. 
I understand all of that completely. Here's what I don't get. Last weekend, Manu Ginobili put up a combined 75 points in wins against two of the best three teams in basketball. A week earlier, Ginobili scored a combined 58 points in wins against Cleveland and Boston. Manu's missed one game in the past couple of months. That was the game the Spurs lost to the Nets. He's got the 2nd-best PER among shooting guards this season, and the 9th-best PER of any player in the league. And it's not like this is a fluke year for him — Manu's had a PER mark of 22 or higher in his last six seasons. On top of all that, if you believe in the "proven winner" thing, Manu Ginobili is definitely a proven winner. 
Here's the kicker. Manu Ginobili is a free agent in 2010, and there doesn't seem to be anywhere near as much speculation surrounding him as there should be. He does want to be a Spur, and the Spurs will likely want him back very badly. That being said, there are a lot of teams with a lot of cap room out there, and not all of them are going to get their #1 target. 
Ginobili's age makes him a less attractive free agent than the other big names who will be available, but he's played 70 or more games in five of his eight NBA seasons, and last season was the first time Ginobili missed more than 20 games. What's more, Ginobili has a package of skills that should age extremely well. Ginobili is an underrated athlete, but he relies more on change of direction and misdirection than explosiveness to get to the basket. He's also a dead-eye shooter and very solid playmaker, two skills that guards retain as they get older. 
I'm of the opinion that it's better to take a risk on a player who might get old before his contract expires than it is to pay a young player who hasn't proven himself yet like a superstar. If a player gives you three effective years and gets old before his contract runs out, there are two benefits. First of all, the importance of getting a good season out of a veteran player who you know will make an impact can't be overstated. As bad as Kevin Garnett's contract looks now, do you really think the Celtics regret making that deal? At all? 
Besides, washed-up veterans have huge expiring contracts, which make them much easier to move. Teams will gladly give up talent for a contract that's a year or two away from expiring, and contenders will often take well-compensated veterans who off the hands of the team that overpaid them — see Charlotte and Washington getting out from under the Stephen Jackson and Antawn Jamison contracts this season by trading them to contenders who needed a short-term boost. 
On the other hand, giving a long-term deal to a young player and counting on him to take his game to the next level while making huge money can prove disastrous. Ben Gordon has a player option worth 13.2 million dollars for the 2013/14 season. Andris Biedrins has the option to make 9 million dollars in the 2013/14 season. The Bulls owe Luol Deng 14.25 million dollars in 2013/14. It's a bird in the hand/two birds in a bush thing. There are no hard-and-fast rules in free agency, but if you think you're highly likely to get two or three good years from a veteran signed to a five-year deal, that's better than giving a five-year deal to someone who might go out and underperform for all five seasons of the contract. 
Ginobili's statistical resume is beyond reproach. He's won on every level, both as a superstar in international play and as a complementary player on the Spurs. He doesn't need to be the superstar, and was even willing to come off the bench in San Antonio. I don't have a crystal ball, and anything could happen over the course of Manu's next contract. I just get the feeling that Manu Ginobili is going to quietly make the team that signs him very happy while the rest of the league goes for broke chasing marquee names.