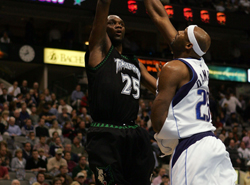 The triangle offense requires a "big with a brain" to run it correctly — a smart and willing passer. Pau Gasol is perfect. The Bulls used to put Scottie Pippen, Michael Jordan and a host of guys who could pass in the post. That seemed to work pretty well for them. Even Shaquille O'Neal is a deft passer. When he wants to be.
Al Jefferson has a brain, but he couldn't quite wrap it around how to play the post in Kurt Rambis' triangle. So the Timberwolves went away from it more and more (Johnny Flynn and the guards had something to do with that, too).
Then along came Darko Milicic. The motion and passing of the triangle feel at home to those coming from traditional European systems, and suddenly the Timberwolves offense was flowing a little better with Darko in.
And Al Jefferson noticed, as he told Jerry Zgoda of the Star Tribune.
"I see myself looking at passes now that I never would have looked at before. [Milicic] helps me open my eyes up to the game because he can pass, he can score, he does all the right things on offense. I see the things he does in games. Now, I think I'm a lot better making the right decisions."
That has carried over with Darko out due to a mild concussion. Jefferson is passing to hit the cutters. Things are opening up in the offense. It almost resembles the triangle at times.
Not that this has translated much to the win column so far. But it's all about baby steps at this point.