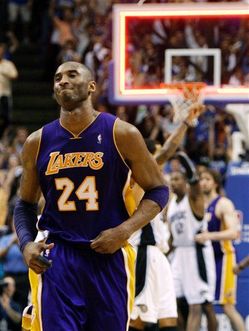 Re-signing Kobe Bryant was a major objective for the Lakers this year, even if it was largely a formality, given Kobe's stated desire to remain in LA and the fact that, let's face it, there's nowhere better for a basketball player to be. The weather, the celebrities, the night life, and an organization that will always be in a position to spend enough to win. Still, Mamba's a tricky snake, so getting him on their side until 2014 is a great development for the Lakeshow. And Bryant is worthy of the reward of a long-term contract for everything he's given the team and its fans.
That said, what really are the effects of this deal?
Yesterday our fearless leader tried to tell you through yellow-tinted shades that the Lakers' championship window is open through 2014. Four more years of Laker dominance in the West, is apparently the summation of the effects of Kobe's gajillion dollar extension. But how accurate is that?
Next two seasons? Absolutely. Bryant will be 33 at the end of the 2012 season. Jordan was 34 when he won his last with the Bulls. But after that? Pau Gasol will be 32 the following season as his already questionable physical presence begins to shrink. Lamar Odom will be 33. Lakers fans love to talk about the Celtics' age tearing them down. Take a look at that plus-30 core.
But let's focus on Bryant. This season fans have noticed significant dip-nights in his shooting, like last night's abhorrent performance, luckily in a game where Lamar Odom destroyed the Jazz (more on him later today). They've also noticed a surge of turnovers, particularly in big games like the Denver showdowns and both losses to the Cavs. So if we take a look at the numbers, we'll see a drop in … nothing?
Bryant's field goal percentage, turnovers, points, and assists are all within range of his averages over the last four years. So no worries. Unless we examine some higher metrics. Don't roll your eyes, stats-haters, just hear me out.
Bryant's PER is the lowest it's been since 2000. His effective field goal shooting (which factors in three point shooting) is the lowest it's been since '06. His usage, which measures how many possessions he absorbs, is the highest since '05. So usage up, production down. His per 36 scoring (points per 36 minutes of play) is the lowest it's been since '05.
Even with his injuries this season factored in, that doesn't help his case, because those injuries only become more likely as age catches up with him in his mid-30's.
So surely he's not able to get the job done like he used to… Oh. And oh. And oh. 
So we're left with conflicting information. Bryant's still the best closer in the game. He's always managed to adapt his game to his changing body and do what he needs to, like adapting the post-game this year. He has an indomitable will. But on the other side, by 2012 he'll be 34, with an aging roster, and his numbers have at least showed signs of a fade. The next two years are a lock, but after that is when things get dicey. So betting on Bryant to be in title contention for four more years may be a risky proposition.
But betting against him?
That's just suicide.