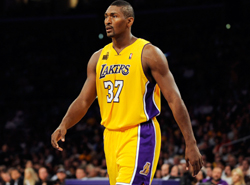 Just what the Lakers need: more entertainment reporters and cameras around the team and in
the locker room. Not a problem, though, the team has looked so focused
on the court lately…
Move over Lamar Odom and the Kardashians, there is a new, bruising forward on the reality television scene. According to The Hollywood Reporter (one o the two big entertainment trade magazines), Artest has struck a deal with E1 Entertainment and Tijuana Entertainment to star in and produce a new show called "They Call Me Crazy."
"I'm really excited to have the opportunity to invite people into my world to see the real me, and show them there are many more sides to the Ron Artest they see on the basketball court," Artest said in a statement.

"This show will allow me to share my experiences with others, and hopefully people can learn from the mistakes I've made," he added.
What are the criteria for getting your own reality series again? Be rich
and at times foolish with money? Check. Off-center personaltiy? Check. Controversial?
Check. Not be self conscious about details of your life being made
public? Check.
Once you look at he list, you wonder why it took so long for Ron Artest
to get his own reality television series.
Artest makes a perfect reality show focus because he may be the least self-conscious athlete out there. While just a couple lockers down Lamar Odom will not do a post-game interview until he has got all his stylish clothes on and is looking just so, Artest does his with a towel loosely draped over him and his feet in a bucket of ice. He's done post game live television interviews — ones cropped from the chest up — wearing a shirt but nothing below the waist. He is genuinely unconcerned about that, or what you think of him.
Artest's life should have plenty to document. Just this year he went on a national television show in his underwear and went to China with artist Shin Shin (who just happens to be beautiful and a little out there as well). Of course, there is plenty to mine if the producers want to bring up the Malice in the Palace again. And you can be sure; they want to bring it up again. And again. Part of the aim of the show is Artest making amends for past transgressions.
Then there is the music. Artest's other passion. Remember he once wanted to take time away from the NBA season to go promote an album (I can't the men paying him millions for basketball didn't see this as a good idea).  Artest the hip-hop artist can use this leverage Tru Warrior records and get word out about his work and the label. E1 has a music division and is already trying to do a reality show and new album for Faith Evans.
Welcome to the Lakers, the show that never ends.