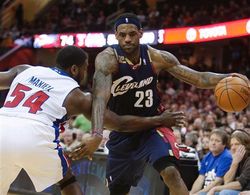 It seems so simple sometimes. Like what LeBron James said on NBATV about his future plans.
"I got a goal, and it's a huge goal, and that's to bring an NBA championship here to Cleveland,' James said. 'And I won't stop until I get it."'
Except it's not that simple with LeBron, Never is. Because he is just not that simple a guy, as Brian Windhorst details for the launch of ESPNNewYork.com.
When he was still talking about free agency, James said he wanted to compete for championships and be somewhere where he was most comfortable. Right now, that place seems like Cleveland.

"I've been a Cav for seven years now," James said. "And I've never given any indication I was leaving."

But it isn't the whole story. There's another side to James, and this is the fraction of his personality that still unnerves the Cavs organization…

It is New York LeBron.

That's the James who gets in his jet to fly to New York to attend parties, restaurant openings or concerts on off nights during the season. It is the James who loves fashion, being on magazine covers and hanging out with Jay-Z, his mentor, who made a name for himself by conquering the New York music scene.
Then you throw in the money side of it — and not the contract the Cavaliers or Knicks can offer, which is almost secondary as both will offer max deals (although Cleveland's can be one year longer with bigger raises, worth about $30 million more total). It's things like the new Nike deal, where he makes more money when he sells more LeBron shoes. Which really means selling shoes in China and other emerging markets. And for that, he has to have the credibility of titles… something he is close to in Cleveland and would take a step back from in New York.
So it makes sense, he wants to win a title in Cleveland. It's a goal. But it's complex.