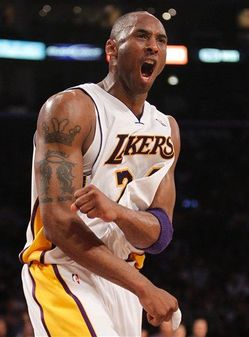 UPDATE 6:15 pm: We have some estimated salary figures now, via FanHouse, and Kobe will join Michael Jordan as the only other NBA player to make $30 million in a season.
Bryant is expected to make $24.8 million next season (part of his current deal), then $26 million in 11-12, $28.7 million in 12-13 and $31.5 million in 13-14.
He can probably live on that.
4:30 pm: The Lakers championship window is now officially open through 2014. That groan you just heard was general managers and fans in 29 other cities.
Completing negotiations that had been going on since before the season started, Kobe Bryant has signed a three-year extension on to his deal (which had one year left after this one, although he had an opt-out option). He will be a Laker until the summer of 2014 now.
"We are extremely pleased that we were able to reach an agreement and come to terms on the extension at this time," said (Lakers General Manager Mitch) Kupchak said in a released statement. "Kobe has been a cornerstone of the Lakers for well over a decade, helping to lead us to four NBA Championships and in the process developing into one of the greatest players in basketball history."
"Two of our main goals heading into this season were to sign Kobe Bryant and Pau Gasol to contract extensions," continued Kupchak. "With the signing of Pau earlier this season and the signing of Kobe today, we were able to accomplish those goals, helping to keep the core of this team intact for the foreseeable future and in turn help to ensure the franchise's continued success over the years to come."
Bryant's deal could be worth $90 million, and he is one of the few players in the NBA worth that salary to owners. Bryant fills arenas, from the top of the cheap seats to the luxury suites. The Lakers charge higher ticket prices than any other team in the NBA, and they sell out nightly — even for the Wizards. Because people will pay to see Kobe play.
The fact Bryant signed with the Lakers is not a surprise (although he could have made more money opting out and resigning), but the timing was a bit odd. Sources say that basically the same offer has been on the table since October. Bryant had a lot of things to weigh, from whether the Lakers would stay in contention to the upcoming new Collective Bargaining Agreement.
Bryant makes $23 million in salary this year, will make $24.8 next year. This very likely locks him in at at a similar max salary into the new CBA (the owners said they want existing contracts changed to conform with the new CBA, but I have a better shot with Brooklyn Decker than there is of the players union agreeing to that). The Lakers also have Gasol and Artest under contract until 2014, with Andrew Bynum and Lamar Odom through 2013. The Lakers have locked up their core.
It also locks the Lakers in as title contenders for four more seasons.