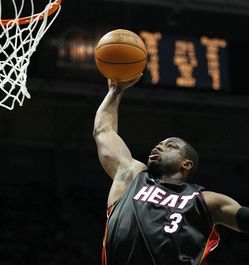 Dwyane Wade is in the middle of a messy divorce and custody battle. It would be the messiest divorce in sports right now if it were not for the Dodger-owning McCourts setting a really unattainable, Jordanesque standard.
Wade insists that the bitter battle with his ex-wife over their children will not spill onto the court. Since this divorce has been dragging out for a couple of years while Wade has put up monster numbers, he's probably right.
But it may keep him off Team USA this summer, he told the Miami Herald.
"That's the case," Wade said as the Heat prepared for Friday's game against the Indiana Pacers. "My kids. This is the most important thing to me. Basketball is going to be there. So if I'm not able to compete this summer, I think everyone will understand the reason behind it."
Everyone things of LeBron James, or Kobe Bryant taking over during the Gold Medal game, but Wade led Team USA in scoring during the last Olympics.
 
LeBron James has already said he may not play because he is one busy man. The fact that they are both LeBron and Wade are big free agents this summer with big decisions on their future to make has nothing to do with skipping out on Team USA. Nope. Nothing. Not a thing. Don't think for a minute that it does.
Who will be there in Vegas for training camp could be interesting. Kobe has hinted he may take the summer off to rest from finger injuries, while Deron Williams said he is in. Plenty of others are on the fence. Apparently vacationing in Turkey for a few weeks not going over big with the NBA elite.