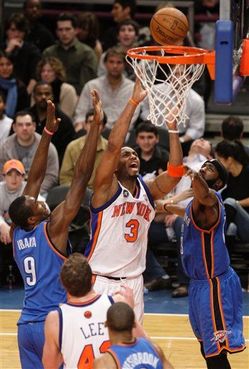 Tracy McGrady wants an NBA job next year. A good one. Ideally as the revered veteran who adds experience and a little spark to a title contender. That would get him a ring and an ego boost — two birds, one stone.
So sure, he likes the idea of playing for his hometown Orlando next year, as he told the New York Post. And anyone else that would listen.
"Of course because it's home, that's home," McGrady said yesterday before the Knicks' 118-90 loss to the Blazers at Rose Garden. "I hated it that I left. I hated I left because I established myself there and made a name for myself. It was a situation where the GM [John Weisbrod] that was there made a huge mistake…"
"They got him out of there because he was out of his mind," McGrady said of Weisbrod.
Weisbrod had a little Isiah Thomas in him — trades bad, draft good. He got death threats from Orlando fans over the seven-player McGrady trade and breaking up that team. Then he turned around and drafted Dwight Howard (kind of a gimme in the top spot, unless you loved Emeka Okafor) and he traded in that draft or the rights to Jameer Nelson (trading a future first rounder).
But this is about McGrady. Who would probably love to play in Orlando, but will be reminded that beggars can't be choosers this summer.