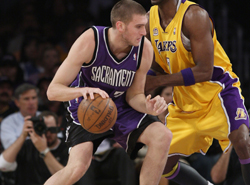 Not that there was a lot of season or reason left for Sacramento this year, but what is remaining Spencer Hawes will not be playing in.
From the Kings official announcement:
"An MRI performed today on the left knee of Sacramento Kings center Spencer Hawes revealed a deep bone contusion and an irregular signal in the joint line. Hawes is going to seek a second opinion from Dr. Lawrence Holland in Seattle tomorrow morning. Holland previously performed surgery on Hawes' left knee prior to his rookie season."
I know that means a bone bruise that a second doctor is going to look at, but if this is something more serious than just missing six games this season and resting this summer I don't know.
Jason Thompson will pick up a lot of minutes — and probably points — with Hawes down.