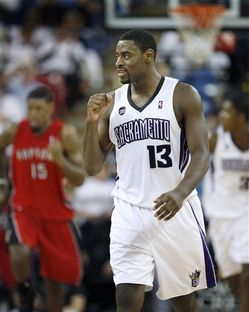 You know who Tyreke Evans is. You know how insanely good he is. You're smart, obviously, since you read this blog (and probably good looking and rich, that's just the demographic we roll with here). And at PBT we give Evans an undo amount of love. An almost uncomfortable amount.
Sacramento Kings owner Gavin Maloof has that love too — he knows what his franchise has got. The Kings have the piece you can build around, the hardest part of the rebuilding process to get. But while you and I and Gavin are on the same page, he told KHTK in Sacramento he still has some selling to do to the casual fan.
Often times people off the street will say why didn't you get Kobe, or why didn't you get LeBron? We already have a Kobe or a LeBron! We have Tyreke Evans! This guy's that good! So we're trying to get home the point how really, really great this kid is now and how great he's going to be. What his brothers tell me is he's going to work really, really hard on his jumpshot, he's going to take some time off after this season probably and then it's back to work.
Gavin, if I can call you that, we both love Tyreke and his game, so I say this coming from a place of love — don't compare Evans to LeBron or Kobe. He's very good, but Kobe has been killing it for more than a decade and has a handful of rings, while LeBron is the best player on the planet today. Love Tyreke, let's not go overboard here.
But the point is what it's going to take to get the casual fan back is not just Evans, but also a better team around Evans. A team that goes the playoffs, maybe makes it out of the first round. One that wins. And that takes time to build. Evans has to improve, the team around him has to improve.
But the casual fans in Sacramento and around the league will come around. He is that good. And hopefully the team will too (in Sacramento, nowhere else).