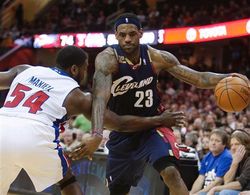 UPDATE 6:12 PM: CNBC'S Darren Rovell has the details, including confirming that there is no New York or Los Angeles clause. He also reports that this deal is for longer than the previous seven year deal, and that this one is less about a flat fee and more about percentage of profits.
Perhaps going to New York would sell more shoes, but he'd likely sell
more shoes in China and other emerging markets, where volume really
counts, if he wins championships. One of the reasons why James is far
behind Bryant in China is that he isn't revered as much because he
doesn't have the rings that Kobe has. In that case, it might make more
sense for James to stay in Cleveland, who made it to the Finals in 2007
under James and, at 58-16, have the best record in the NBA.
5:02 pm: It is America's greatest urban legend — that LeBron James gets a big bonus from Nike if he signs to play in New York or Los Angeles. Either that or the legend that two cell phones near each other can cook popcorn.
Turns out both are false.
According to the all knowing twitter account of Brian Windhorst at the Cleland Plain Dealer, there is no such bonus in the new contract extension that LeBron signed with Nike. LeBron is getting paid no matter where he plays.
Whether it was or wasn't in the previous contract can be left to a grassy knoll debate. But it doesn't really need to be there in the future.
At the recent Sloan Sports Analytics Conference in Boston, Phil de Picciotto of Octagon called LeBron the exception to the rule. While most players get a huge boost being in LA, NY or Chicago, LeBron is already an international brand based out of Cleveland. His market is international, not solely domestic, and in today's media environment Cleveland can be New York when you reach a certain level.
LeBron is at and past that level. What grows him from this point is winning titles. He needs to go where he can do that best. And if the question is the Knicks or the Cavaliers for winning right now… sorry New York.