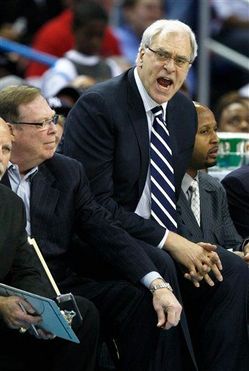 You Lakers. You lollygag the ball around the perimeter. You lollygag your way down the court. You lollygag in and out of the locker room. You know what that makes you? Kobe? Lollygaggers. Lollygaggers.
Kobe is basically thinking that. This is what he told the NBATV crew last night.
"It is my responsibility to make sure that we improve and continue to move in the right direction. The playoffs are right here so it is important that I put my foot on the gas and make sure that we have in our mind's eye the kind of urgency that we need to play with and defend…
 "The trap that you run into is that you play with that sense of urgency when you are down 10, 12, 13 points. That is the kind of mentality that I do not want us to have going into the post season. You kind of lollygag going into a series and then you are down 3-1. You kind of fall into that false sense of security and all of a sudden it is time to go and it's too late."
For a couple of seasons now, the effort from these Lakers has been, what we can politely call, inconsistent. But last season, the Lakers would rise to the occasion and put in 48 good minutes in a key game. They made some statements. This season they have made statements against the best teams in the West, but by playing a good quarter or a good half.
When was the last time you remember the Lakers playing a good 48 minutes? There is a lack of urgency on this team.
And part of that falls to Phil Jackson, who is not setting that tone. Kevin Ding at the Orange Country Register broke down the Lakers practices on their current road trip.
After a win last Wednesday, the Lakers have terrible ball movement in a Thursday practice, but Jackson cuts it short anyway. Friday, the Lakers look terrible in a loss to Oklahoma City. They get a win against Houston without a practice the next night (not a pretty win, but who cares, right?). Sunday, Jackson cancels practice in New Orleans. Monday the Lakers lose to the Hornets.
Tuesday, Jackson cancels practice again, this time in Atlanta. Tonight the Lakers take on the Hawks.
It's a hard line to walk this time of year, resting for the playoffs versus coming in cold and without energy. Jackson is leaning toward rest with his squad.
And it is showing on the court. Where they are lollygaggers.