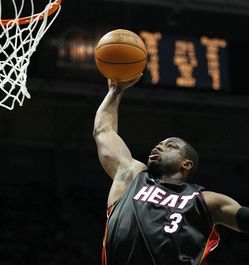 As NBA teams jockey for playoff position these final two weeks of the season, expect some sort of formal protest from the Bucks, Bobcats and the other teams jostling for position in the second tier of the Eastern Conference playoff race.
Somehow, the Heat is being allowed to close out its season in the D-League.
Not only does no team have as forgiving a finishing run as the Heat, but also each of the eight remaining games the Heat plays comes against teams at least 20 games below .500.
Yes, you read that right, at least 20 (two-oh) games below .500.
The closing run:
Wednesday at 23-57 Detroit.
Friday at 27-47 Indiana.
Saturday at 14-60 Minnesota.
April 7 home against 26-47 Philadelphia.
April 9 home against 23-57 Detroit.
April 11 at 26-47 New York.
April 13 at 26-47 Philadelphia.
April 15 home against 10-64 New Jersey.
The Heat, of course, is saying all the right things.
"We don't look at who we play," center Jermaine O'Neal said. "We have not talked one time about teams' schedules. We have not talked that. We have not talked about teams' records. We've talked about us and what we needed to do."
Still, for the mathematically challenged, the Heat closes out its schedule against competition that is 231 games below .500.
How could you not notice that?
"We're not looking at anything like we're good enough," forward Quentin Richardson said. "We're not the Lakers or Cleveland, where we could look at teams and try and look past them. I don't even think those teams do it, either, but we definitely know we need to focus one game at a time."
True, this is a team that has already lost at home to the Timberwolves and Wizards, as well as on the road to the Clippers and Bulls, but having won 11 of its last 14, this also has become a different team since then.
Can you say fifth seed in the Eastern Conference?
The schedule seems to be saying as much.
Now whether this is the best way to prepare for the Hawks or Celtics in the opening round is an entirely different story.
Ira Winderman writes regularly for NBCSports.com and covers the Heat and the NBA for the South Florida Sun-Sentinel.