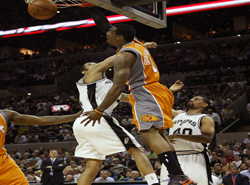 It's not about the money. It's never about the money in the NBA. It's about the love of the game, the quest for self-improvement, it's about team.
Right Amare Stoudemire? You're not suddenly All-World since the All-Star break because you see a new contract this summer. What would you say to people who are so cynical as to think that?
"I would say they are simply retarded and they haven't been watching my career at all since I've been in the league.  Ever since I've been in the league, I've been improving every single summer.  Getting myself in total top shape, focusing on winning a championship, getting through those playoffs runs, and coming back with force and reckless abandon.  I've been improving every single year, after the All Star break I've been improving, so if they think I'm just playing for a contract, they're out of their minds."
That's what Amare said in an interview on KTAR on Phoenix.
To be slightly less cynical for a second — and that's not easy for me — Stoudemire is having success right now because the team is having success. He is getting better opportunities in transition because of their improved defense (credit to Alvin Gentry). He has more room to operate as the floor is spread out. Steve Nash is playing well and when that happens everyone around him gets the ball in spots they like. There are other factors than a contract in play here.
But I stand by my rule number one about the NBA: It is always about the money. We've all seen the Sasha Vujacic's of he world rise up and look good for a contract year, only to revert to form the following season. For Stoudemire reverting to form is still pretty damn amazing. He is a top player who deserves to be paid. But the contract is always a motivator. Money and impending free agency matters.