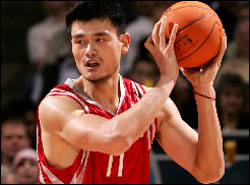 LeBron James. Dwyane Wade. Chris Bosh. Yao Ming?
Maybe. Just our luck, we could have one major free agent to follow this summer.
Yao can opt out of his $17.7 million deal after the season, even though he has not set foot on a court this year due to foot problems. He told the Houston Chronicle he might opt out, but he has given it no thought. Whatsoever.
Yao, 29, said he has not considered his options, but was noncommittal about whether he might opt out of his contract.

"I'm sure I'm not sure until after we discuss (it)," Yao said. "We have not started (to) discuss it yet, so I'm not sure, either way. I have to talk to my agent first before we start to decide where I need to go. If you ask my agent, he will say, 'I have to ask Yao and we will start discussing it.'"

Yao's agent, John Huizinga, had no comment.
Once again, this is what the Collective Bargaining Agreement talks have brought us.
A healthy Yao is a max player — he's 7'6″, strong, has shooting touch out to 15 feet, can block shots and intimidate on defense. He dominates Dwight Howard when they face off. And he can get the second-best player on your team voted into the All-Star game by his legions of fans in China.
If he opts out now, Yao can get what will likely be a larger and longer max contract from somebody. If he waits until next summer, who knows what the max deal will be under the new CBA? If the owners get their way the max salary may be a $100 Target gift card.
Yao is an injury risk — he has played 57 games or fewer four of the last five years and is coming off major surgery that has kept him off the court an entire season. In today's risk-averse NBA nobody is offering him a deal unless he can prove he is all the way back. But it's got to be tempting, because when healthy he is one of a handful of players genuinely deserving of a max deal. And when GMs start missing out on the Big Three there will be pressure to do something.