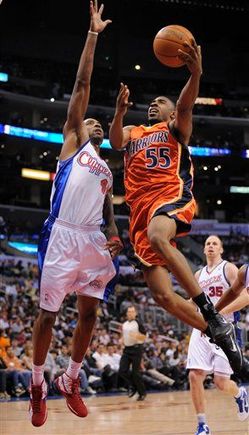 No team is having the success with D-League call ups that the Golden State Warriors are. Guys who were playing in Sioux Falls just a couple months ago are leading Don Nelson toward setting the NBA record for most coaching wins in a career.
When things started to tighten up late Sunday night (a lead dropping into the single digits) against the Clippers, the Warriors put the ball in the hands of Reggie Williams. Not a first round draft pick, not even a second round guy, but someone who 15 games ago no Warriors fan had heard of. A D-League guy. A guy who dropped 25, hit key shots and got the Warriors a win Sunday.
"I think he has a gift," Warriors coach Don Nelson said of Williams. "He doesn't even know how big a gift he has because we've just dusted off the surface. He's a rare basketball player, as far as I can see. He's able to have the mental capacity to understand the total game and who is open. He can read defenses and can score and he's quick. He's unselfish but he knows he's a scorer. I think he's a special player."
It's not just Williams. Anthony Tolliver is starting at center for Golden State, he was a call up. Chris Hunter got 20 key minutes off the bench, he was a call up. Backup point guard C.J. Watson was a D-Leaguer.
"I'm so proud of the D-League guys as they continually play well and we're finding ways within their gifts and their game how to use them, to make the most of it," Nelson said.
It begs the question — is it the Warriors system, or their scouting? Matt Moore asked this at FanHouse. The Spurs own a D-League team but don't have prospects come up out of it. Lakers are the same way (yes, Jordan Farmar played a few games for the D-Fenders, but that was just a couple games to get him burn when he was stuck deep in the rotation, it was not about game development).
Williams said the system that Nelson runs matters. But it's also the environment.
"(It's the system) and the fact my teammates and the coaching staff put confidence in me," Williams said. "They help me on the floor with plays, being in the right spot at the right time, so it's just a lot of things into one."
Meanwhile, Williams and his D-League colleagues are just having fun. After a key late three, Williams was yelling, smiling and pumping his fist.
"When you make a play and hit a big shot you should smile and laugh and enjoy what you're doing," Williams said. "It's our job and we just wanted to be here, at this level, so we're just enjoying it."