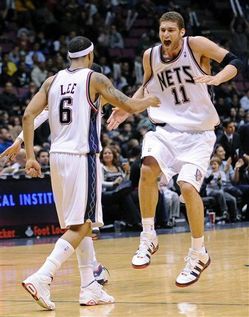 The New Jersey Nets have reached their goal of just being a kind of average very bad.
The Nets picked up win number 10 on the season in style, defeating traditional power San Antonio. Except that these Spurs were without Manu Ginobili (easily the Spurs best player the last few weeks) and Tony Parker. So Matt Bonner and Malik Hariston were getting key minutes at the end, they couldn't generate any offense and they were all kinds of sloppy. Very unSpurs like.
And nobody in New Jersey cares. The Nets get 22 and 12 from Brook Lopez, turn the ball over just four times, and improve to 10-64 on the season, leaving Fred Carter's 72-73 Sixers team as the worst ever (9-73). New Jersey avoids history and now is just an average kind of very bad.
That is quite an honor.