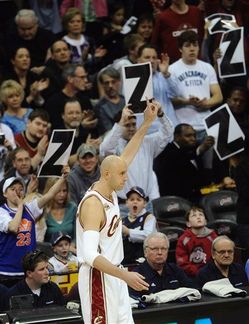 This week, each of the top teams have a loss they regret, so we balance things out by not tinkering with the top… but the Spurs and Suns are climbing fast. And the Nets are 28th.

1. Cavaliers (58-16) The true sign of a quality team – they get a little bored this time of year and just want the playoffs to start. That would be your Cavaliers most nights.
2. Magic (52-22) The dramatic last second loss to the Hawks because nobody put a body on Josh Smith stung. But better to learn the hard lessons now rather than the second round of the playoffs.
3. Lakers (54-19) Last week's drubbing at the hands of Oklahoma City does not mean the Thunder would win a first-round playoff matchup with Los Angeles. That said, the Lakers would prefer to avoid OKC in the first round.
4. Suns (47-26) The way he's playing lately Amare Stoudemire could have won the Space Jam game all by himself. Seven wins in a row for Phoenix, but this week's victims were Golden State, New York and Minnesota. Can't read much into those.
5. Mavericks (48-26) Dirk has great footwork — would he be better on Dancing With The Stars than Mark Cuban?
6. Hawks (47-26) They sandwich the dramatic win over the Magic with losses to the Sixers and Bucks. I expect in the playoffs you see the more focused Hawks, but who knows if they can't build momentum now.
7. Nuggets (48-26) A couple bad games this week, but nobody in Denver noticed because sports fans there are all still walking around muttering, "Brady Quinn? He's the answer to our problems?"
8. Spurs (48-26) Kevin Garnett said Manu Ginobili imposed his will on the game Sunday. Manu's been imposing his will on a lot of games lately.
9. Bucks (40-32) Everyone keeps saying the scramble between the Hawks and Celtics for third in the East is about avoiding Cleveland in the second round. It really should be about avoiding the hot Bucks in the first.
10. Blazers (45-29) Quality wins over Dallas and Oklahoma City this week. It has taken all season, but they may be putting it all together at the right time.
11. Celtics (47-26) What is it about the Celtics and third quarters? San Antonio's 12-0 run to start the third quarter Sunday was just the latest in a long line of bad third quarters by Boston.
12. Jazz (48-26) Carlos Boozer hints he might stay in Utah next season. Yea, we can certainly believe everything he says about free agency.
13. Heat (40-34) Wade plays in Chicago, he sees the Bulls roster up close, and I'm willing to bet checked Chicago off the list of possible free agent destinations.  
14. Thunder (44-28) So young, so talented. The question is: Under the bright lights of the playoffs will they finally be a little dazed and take a step back? They haven't all season.
15. Bobcats (38-34) Three game win streak! They've turned it on and are playing great! Oh, all the wins were against the Wizards or Minnesota? Never mind.
16. Bulls (35-38) They've won three of four. But that's not the reason they are just half a game out of the last playoff spot, Toronto's utter collapse is.
17. Grizzlies (38-35) Welcome to the Western Conference — Memphis would be three games ahead of a Bulls team almost in the playoffs, instead they are 6.5 games out and going nowhere.
18. Rockets (36-36) Injuries continue to ravage this roster in an unfair way.
19. Hornets (34-40) Chris Paul returns, and they drop two game in a row. Just been that kind of year for the Hornets/
20. Raptors (34-34) This team is just falling apart. It's hard to watch. Especially if you're Chris Bosh.
21. Sixers (26-47) Wins against the hot Bucks and Hawks — are the guys playing for Eddie Jordan's job? Nah.
22. Pacers (27-47) You should watch this team for Danny Granger. Actually, he may be the only reason to watch this team.
23. Warriors (21-52) Golden State is the best D-League team playing in the NBA.
24. Clippers (27-46) Among the things shown on the video board at Clippers home games to entice season ticket holders to renew was a big picture highlight package from the draft lottery party the team threw. Go with what you know.
25. Kings (24-50) The players are trying, but this team is hard to watch without Tyreke Evans.
26. Knicks (26-46) Incoming Nets owner and Russian billionaire Mikhail Prokhorov said he wanted to buy the Knicks first, but were told they were not for sale. That sound you hear is the wailing of Knicks fans upon learning this news.
27. Pistons (23-50) Congratulations on being the team the Nets beat for their ninth win.
28. Nets (9-64) It's amazing how much better they've looked once truly desperate to get a win. Not good, mind you, but better.
29. Wizards (21-54) Fifteen straight losses. No, they don't get to count Gilbert Arenas avoiding jail time as a win.
20. Timberwolves (14-60) Two separate 15-game losing streaks in one season. Damn. That's hard to do.