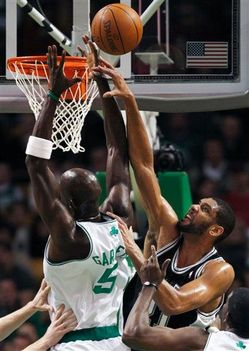 What happened while you were putting a snake in your mouth…
Spurs 94 Celtics 73: Such a good game at the half. Such a demolish in the second half. Yikesabees.
You may remember these Celtics from such hits as "Christmas Through Two Weeks Ago" and "That Time The Nets Beat Them." The Celtics had 30 points in the second half. 30 points in 24 minutes. To put that in perspective, the Tennessee Volunteers scored 28 in the second half of a good game in a loss to Michigan State.
It was a bloodbath, and Manu Ginobili played Bill the Butcher. Ginobili was everywhere, leading the defense, slicing through the Celtics' man-help (which was unbearably slow), and doing this thing that is hard to even describe (admission, I run that site so obviously I can describe it, but you can skip my blabbing and head straight for the video).
The Celtics were not there. I mean, they were there. They weren't absent like Kevin Garnett was in the playoffs last year. They were physically in the game. But their souls and intentions were somewhere far away. Perhaps watching Mad Men, or having tea with the queen. Where they weren't was in TD Northbank in the second half.
Tim Duncan had two blocks in the first five minutes, and Richard Jefferson had a good game. Richard. Jefferson. Ye Gods.
Bucks 108 Grizzlies 103: There were a lot of makeup calls in this game, down the stretch.
I say that not to excuse the Grizzlies, the NBA team I so often yell in support of, but to just state a fact. The refs overlooked an Ersan Ilyasova over-the-back on Marc Gasol because apparently they had been watching college ball too much. Then they made up for it with an easy breezy tag-it foul on Brandon Jennings, based solely on the fact that the rookie made the poor decision to bite on a pump fake, even if he didn't make contact.
Then, as if they felt bad for the make up call they made for missing another one, they no-called an obvious one on Luke Ridnour when O.J. Mayo gave him the "Paul Pierce Special" (jab-step, pumpfake, bring the arm and ball up through the defender, an easy call).
Which is too bad, because otherwise it was a fantastic game. The Grizzlies are a tough offense to stop, and while the Bucks couldn't neutralize them, they did make them sputter at times. The Grizzlies' bench was outscored 33-6, and you just can't have to rely on your starters that much, every game.
It's frustrating that the Grizzlies don't lean on Marc Gasol for offense more. He's a tremendous facilitator and his defense is superb (5 blocks), but he's so efficient from the floor, you almost want to see him try and take over more. He could have done more to counter Bogut.
Hawks 94 Pacers 84: This wasn't the perfect Hawks game. Joe Johnson was off (5-13), Josh Smith had zero blocks, and Mo Evans was very, very bad.
But it was close. That defense that had been relenting lately found itself, and Josh Smith honestly could have done anything he wanted in the post. There wasn't a single matchup the Pacers could counter with, and the Hawks exploited it.
Al Horford somehow plays better as the season goes along, and it's getting bizarre.
Cavs 97 Kings 90: The Kings were not about to let Z's big return be a laugher. Big ups, Sactown. You've got fighters.
Tyreke Evans? Out. Brockman? Out. Spencer Hawes? Out. Dominic McGuire? Out.
And still. To the very last man, a brawl.
Beno Udrih had 18 points and 15 assists. If you have good point guard play, it freaks out the Cavs. They're just not prepared for it, provided you can defend at the other end. They're fine with it as long as you want to play up and down. But slow it down at either end, and you've got a serious chink in the armor.
But a win's a win. And Antawn Jamison had 26 points, 9 rebounds, 2 assists, and only 1 turnover in 41 minutes. Ruh-roh. The big acquisition found himself.
4 points, 6 rebounds, 3 blocks. Welcome home, Zydrunas. We missed you.
Heat 97 Raps 94: I flipped it off in the third quarter. The Raps were rolling, as they can do. Hitting everything. Running, running, running. So having to rewatch this bad boy was irritating. Probably not irritating like it was for Raptors fans.
Look, I'm not big on cliches about defense, and I tend to think that defense may win championships, but if you can't put the ball in the hole you're just as screwed. But if you ask me how these Raps are going to do in the playoffs, I have to point wildly at this game. Gesticulate, actually.
They can't get stops. Not when they need to. Not when it's crucial. Not when they've put themselves in a position to win. They can't communicate, can't execute, can't deliver. The Heat really aren't the better overall team. I believe that, based on the talent involved. But they can do business when it matters.
Bulls 110 Pistons 103: The Bulls announcers couldn't believe how bad Ben Gordon was. It was like when your boy scout son comes home from college with a nosering, a dragon tattoo, listening to death metal and talking about becoming a poet.
Sad, really.
The Bulls? They've got some life in them. They've got a few coals left in the fire. Not much, and a playoff caliber defense will likely extinguish them like a trashcan fire. But there's some talent, a lot of effort, and some weird combinations of ability. I'll likely change my mind in two days when they get blown out again.
Magic 103 Nuggets 97: Great game. Can we just vote these two into a second round series? It's a brutal matchup for both sides. Jameer Nelson had serious problems with Billups, who is built to beat him. And when Vince Carter went down, the door blew open to let the Nuggets take control.
But it was a Duke day.
J.J. Redick, who if you've been paying attention, has turned into a really pretty good NBA player, was huge. 23 points, 7 rebounds, 8 assists for the former Blue Devil. And that doesn't fully capture his work on defense.
But you know who really impressed? Ryan Anderson. 20 points in 19 minutes, with 5 boards. And most of his work was on Birdman. Anderson's a lot like Anderson, really, except able to shoot, and a smarter defender.
The Nuggets don't work hard enough at getting Nene involved in the offense.
Blazes 92 Thunder 87: What a weird one.
The Thunder aren't your typical y
oung team. They're not particularly fast, they don't score a ton of points, and they can play defense. They're willing to get dirty. But, if you hit that next level, you know, that playoff level? They still reel a bit when you're trading haymakers.
And the Blazers? They're so used to pain and suffering. Life is pain, so they're willing to keep swinging all day.
This was as much a death knell for Thabo Sefolosha's razor-thin defensive player of the year hopes as you'll find. Andre Miller abused him, and when he wasn't, Brandon Roy was. Russell Westbrook is a very good defender if you don't know what you're doing. These two know what they're doing.
Suns 111, Timberwolves 105: No Robin Lopez — meaning no inside game whatsoever for the Suns — made this one interesting. Minny owned the paint. Kevin Love had 23 points and 22 rebounds, Al Jefferson had 19 points and 16 rebounds. The entire Suns team had just three more rebounds than Love and Jefferson combined.
For any other team, that would be enough. Not the Timberwolves, though, they find new and impressive ways to lose (you have to if you are going to drop 15 straight like this). Tonight they fall back on the old reliable "bad shooting night" and shoot under 40 percent, and just 25 percent from three. The Suns get the win, but nobody is going to be happy to have to watch the tape on this one later
Warriors 121, Clippers 103: In a game between two teams heading to the lottery, is the winner really the loser? Is not the goal better lottery position?
The Clippers followed the "beat the Warriors" book of slow it down and pound it inside for 10 minutes, and were up double digits in the first quarter. Then they got bored doing the right thing, brought in the subs, got a little smaller, and just start turning the ball over. Turnovers are the Warriors fuel. Golden State starts running, getting easy buckets and transition threes, and before you knew it the Warriors were up 19. Clippers made a couple mini-runs, but by then the Warriors were feeling it. And the D-Leaguers were having too much fun to lose..