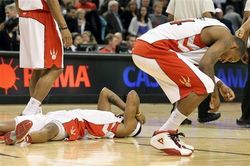 What you missed while watching Cinderella leave the ball…
Nuggets 97, Raptors 96: In a just and fair world, Denver does not win that game. Toronto gave their best effort in, well, a long time and outplayed Denver for 28 minutes (starting at the beginning of the second quarter). It was so bad JR Smith blew the chance for three dunks in transition within a minute of each other early in the fourth, including just fumbling one out of bounds. The best in-game dunker in the league was just dropping the ball. Sad.
Then Denver started its run, got physical, and got in position to give themselves a shot at the game winner.
On the final play Toronto coach Jay Triano went with Chris Bosh and a bunch of perimeter players — a lineup that lets them switch off any pick. Smart. A lineup that can be beat for rebounds. A risk. One that came back to bite them. Melo's first miss was volleyballed and eventually rebounded by Nene, the Nuggets quickly swung the ball around the perimeter back to to Anthony. He was covered by Jarrett Jack, a full five inches shorter, so Melo got a clean look at the game winner. That's the risk. He drained it.
Bobcats 107, Wizards 96: Usually when Charlotte's defense isn't great — and it wasn't great in this game, it wasn't good either — they are doomed. But tonight they were playing the lowly Wizards, now losers of 14 straight. Against them, even the worst offense looks like the Showtime Lakers.
Raymond Felton has developed into a consistent, rock solid point guard — 19 points of 8 of 10 shooting with 11 assists.
Pacers 122, Jazz 106: Utah got sucked into playing at Indiana's pace — 100 possessions in the game, seven more than the average Jazz contest. Flex offense be damned, full speed ahead. Playing that style also means taking a lot of threes — Indiana took 36 and made 17 (47 percent).
Danny Granger is a flat out stud. He dropped 44 in this one on 19 shots.
Magic 106, Timberwolves 97: Al Jefferson and Darko Milicic make a nice front line on paper, or they might if they would  play up to their potential. Dwight Howard is all about the now and he wasn't nice. He finished with 24 points, 19 rebounds and four blocks. The Magic could have played better, credit the Timberwolves for coming out fast and playing hard and making this one interesting.
Sixers 106, Hawks 98: Philadelphia is one of the few teams that can hang athletically with Atlanta. The Sixers were active on defense, which really threw Atlanta off its game. Example, with 1:25 left in the game Josh Smith got the long rebound off a Bibby missed three and drive into the lane, at 10 feet away leapt up and with no Sixer contesting the shot… tried to slip a pass between two defenders to Horford, which was stolen. The Hawks were not the aggressors we expect.
This was Iggy's night: 25 points and 10 boards. Jrue Holiday added 13 points, 12 assists and 7 steals. Not bad rookie, not bad.
Celtics 94, Kings 86: This one went as expected. The Celtics are starting to put it together; the Kings were without Tyreke Evans. Boston was up 15 after 12 minutes and never looked back. Rondo had 18 assists.
Nets 118, Pistons 110: Break up the Nets! They have won two in a row and now have nine wins on the season — tied for the worst record ever. One win in the next three weeks and they avoid ignominy.
It is amazing what desperation — in this case to avoid embarrassment — can do. The Nets played hard on defense (not that they were still any good at it, but they tried) and got 37 from Brook Lopez and 31 from Yi Jianlian. It's a small victory, but the Nets deserve to celebrate it.
Thunder 91, Lakers 75: Oklahoma City is long and active on defense, and that gave the Lakers huge problems at the start — they scored just 15 points on 30% shooting in the first quarter. Faced with an obstacle, the Lakers rolled over and played dead.
Kobe had nine early turnovers and was just sloppy. Darius from Forum Blue & Gold summed it up on twitter: "With all the fumbles, falling down, & passing the ball to the other team, Kobe looks like Kurt Warner, NY Giants version."
No, Lakers fans, this game has no bearing on a future playoff meeting with the Thunder. Just relax.
Heat 87, Bucks 74: Milwaukee just could do nothing right on offense, and they finished shooting 31 percent on the night. They miss Bogut, but this wasn't that, it was just a Mr. Magoo night. Meanwhile a Heat team that played the night before looked like they had the fresher legs.
Only concern for heat was Jermaine O'Neal hyperextending his knee and having to be helped off the court. He will be checked in the morning.
Spurs 102, Cavaliers 97: The Cavaliers had the lead early in the fourth quarter, but the Spurs executed better down the stretch. Cleveland's unimaginative offense makes it that much easier for a good defensive team to stop them. That could be an issue come playoff time.
Suns 132, Knicks 96: You know what this game says about Mike D'Antoni's system? That it works better with more talented players.