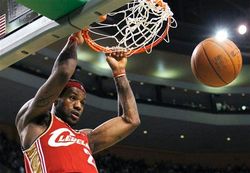 In post game comments after the Cavaliers win last night, LeBron James said something that has gotten picked up by the media and blogsphere to day. We'll take Brett Pollakoff's version from FanHouse (because he and I think alike on this):
"If I really wanted to," James said, "if I really wanted to be the scoring [champion] every single year — every single year — I could really do it. But it doesn't matter."
I heard the quote last night and moved on, but apparently this caught the attention of some. So three quick thoughts:
1) LeBron is telling the truth, he could win the scoring title every year if he made that his goal – the team would suffer and win less, but he could score plenty more points.
2) There are maybe half a dozen other players in the NBA who could say the exact same thing and it would be true: Kobe Bryant, Dwyane Wade, Kevin Durant (who is just figuring this out), Carmelo Anthony. I may be forgetting one or two.
3) All of those guys score a lot, but they all also do it mostly within a team system, they dish out assists on nights the defense is focused too much on them. They are just trying to win. They are gifted scorers and usually using that gift is the best way to get a win, so they do it. But it is the win that matters, not the points.
Isn't this all common knowledge? Is what LeBron said really interesting? Something we didn't know? Apparently not. Apparently it's news.