W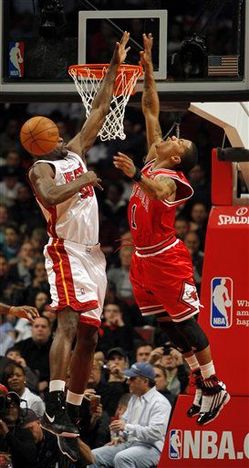 hat you missed while watching Gus Johnson go Gus Johnson…
Heat 103, Bulls 74: Miami's offense looked great. Chicago's game plan — a very logical one — was to take Dwyane Wade out, do not let him beat you with his shot. So he passed, and finished with 10 assists. The Heat pounded the soft inside game of the Bulls with Jermaine O'Neal (24 points), then they posted up Quentin Richardson on Flip Murray. The Heat were active on offense, active on defense. And if you get up on these Bulls early right now, they just fold. The Bulls shot 32%.
Clippers 99, Rockets 93: This review contains sentences I never thought I'd type. Such as: The Clippers just executed so much more cleanly than the Rockets tonight. LA recognized the mismatches and pounded them. The Rockets did not.
Or this one: Great game from the Clippers bench. Four of the five Clippers starters had a negative plus/minus for the night, while the entire bench was in the positive. Craig "Rhino" Smith (still maybe the best nickname in the league) dominated — 25 points, 10 rebounds and was a +25 on the night. He was a beast. Eric Gordon had a nice game spreading the floor for him.
Chase Budinger is a nice player, he is no Kevin Martin. The Rockets really missed him and Shane Battier in this one.
Trail Blazers 101, Mavericks 89: Portland is playing well right now, particularly on defense. They are long and athletic, and that really bothered Maverick shooters. Marcus Camby got right up on Dirk Nowitzki, bodied him and made him uncomfortable.
And Portland did it without fouling — Dallas got to the line just nine times, as opposed to Portland's 26. Little bit of home cooking in that number, but it's mostly about the defense