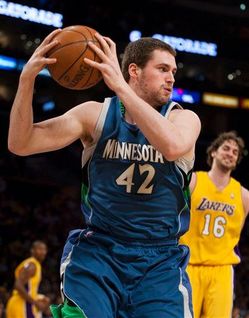 If you're Josh Smith or Dominique Wilkins, offensive rebounding can look very, very cool. But for most guys in the NBA, offensive rebounding is doing the dirty work. While everyone else is out on the perimeter handling the ball, slicing through defenders and firing up jumpers to get their points, offensive rebounders have to get their buckets by parking themselves under the basket and fighting gigantic men with better position to try and get a second opportunity for their offense. Without further ado, here are five of the best offensive rebounders in the league, in no particular order:
1. Jon Brockman, Sacramento Kings
Brockman isn't anywhere near the player that fellow Kings rookie Tyreke Evans is. In fact, Brockman probably isn't one of the two best rookies on his own team. But Brockman is an unapologetically physical player, and an absolute monster on the offensive boards. Brockman easily leads the league in offensive rebound rate with a mark of 18.8 — for contrast, Glen Davis is in second place with a mark of 15.7. When Brockman is on the floor, the Kings' offensive rebounding percentage goes up a ludicrous 12.5%. 
One key to Brockman's offensive rebounding prowess is that he almost never shoots. Of the 330 qualified players, Brockman ranks 323rd in usage rate, and a full 16% of Brockman's shot attempts are tip-ins. Brockman doesn't play much, but when he does he is an absolute force on the offensive glass.
2. Kevin Love, Minnesota Timberwolves
What's really impressive about Love's offensive rebounding is that he manages to get so many offensive boards while also spending a lot of time on the perimeter. Love has an excellent outside shooting touch for a big man, and slightly over half of his shot attempts are jumpers. But he knows how to get under the basket and find the ball when someone else shoots, and his 14.4 offensive rebounding rate is good for 5th in the league. 
3. Ben Wallace, Detroit Pistons
He's still got it. Wallace is one of the pioneers of the back-tap, when he won't even grab the rebound, but slap it out to the perimeter to give his team another possession. Since Wallace isn't as tall as most of the guys he fights for rebounds with and often can't finish in traffic himself, it's a play born out of necessity that more and more big men in the NBA have since adapted. Even though he's 35 and his knees are almost completely shot (in fact, he may miss the rest of this season), Wallace is still a quality offensive rebounder when he's healthy.
4. DaJuan Blair:
A theme that appears to be getting clearer and clearer among top offensive rebounders: height and hops are much less important than strength, a wide base, instincts, and a willingness to scrap. In fact, about the only athletic superfreak with an off-the-charts offensive rebound rate this year was…
5. Greg Oden:
Oh. Now I'm just kind of sad.
Honorable Mentions:
Dwight Howard, Pau Gasol (especially the way he keeps the ball high on put-backs), Josh Smith, Zydrunas Ilgauskas, Glen Davis, and many more.