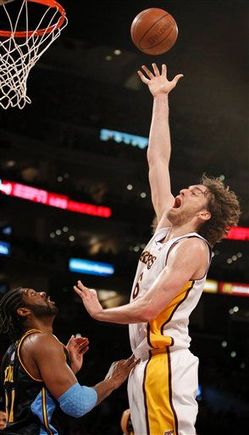 Pau Gasol dropped out of medical school so he could enter the NBA draft. You know, just like every other NBA big man.
But we're serious about Gasol, whose mother is a doctor back in Barcelona. The man has carved up cadavers, just like he did to Tim Dunan in the low block last night. So when he made a recent visit to Children's Hospital in Los Angeles (as detailed in a brilliant Sports Illustrated profile by Lee Jenkins) Gasol took the doctors by surprise.
At Children's Hospital he met with doctors in a conference room, quizzing them about their treatment of patients with scoliosis, asking how they ensure that their procedures do not stunt lung development. "We all looked at each other like, How does he know this stuff?" says Dr. David Skaggs, chief of orthopedic surgery. Next month Gasol is scheduled to sit in on a spinal surgery with Skaggs, dressed in scrubs. "We talk to him now almost like he is a surgical colleague," Skaggs says.
Read the whole profile. In an NBA world of hip-hop and PS3s, Gasol is a different cat. If you want to discuss the works of Jose Saramago, he is pretty much the only guy in the NBA to turn to (although Gasol prefers historical novels). He's not at the Cheesecake Factory much, he prefers Bazaar up in LA.
Gasol is smarter than you. Can't say that about a ton of NBA players, frankly.