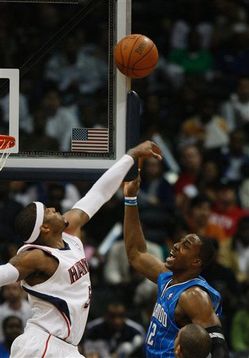 There was plenty of frustration to go around in the Magic locker room Wednesday night. Josh Smith will do that to you — especially when he is throwing down game winning dunks. The Hawks and their seemingly endless supply of great athletes will do that to you
Stan Van Gundy was frustrated nobody bothered to put a body on Smith in the game-winning rebound and dunk, and SVG was more than willing to talk about it according to the Orlando Sentinel.
Van Gundy just didn't throw Rashard Lewis under the bus after the Magic's 86-84 loss to Atlanta on Wednesday night. He left him there and let the wheels make an imprint on his backside…

"Unfortunately, we forgot to box out on the weak side, and Josh was able to make a great play. We became spectators and didn't block out," he said.
But the more interesting thing was the Magic players' frustration with Van Gundy.
"He obviously doesn't trust me down the stretch," Barnes huffed.
Rashard Lewis — who was frustrated he didn't get more looks from beyond the arc after going for 0-4 — was muttering about Van Gundy's offense.
It's dangerous to read too much into what is said in a locker room after a tough loss, emotions are high and everyone from coaches on down are saying things they tend to regret. But this could be something more — maybe a sign of strain on the seams of the Magic. The team is going to see a lot more pressure starting in about three weeks. They may well face this same Atlanta team in the second round.
Will the seams hold when there is real strain? They did last year, but this year may be different.