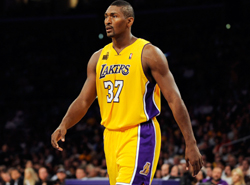 Ron Artest owned up to it before the season — "If the Lakers don't win a title, blame me."
Bill Plaschke decided mid-March was waiting long enough to start that blame game in a Los Angeles Times column today.
In a move engineered by the Buss family last summer, Artest was signed here from the Houston Rockets to replace (Trevor) Ariza, who then signed with Houston, after balking at the Lakers' contract offer. It is a move that some Lakers folks would now take back. It was a move that many of us thought should never have happened in the first place.

Ariza didn't have Artest's star power, but he was a better offensive complement to Kobe Bryant, a more versatile team defender, and a guy who had survived the championship battle to win a ring. He was a known quantity who would have been an invaluable soul in the difficult quest to win a second consecutive title. Artest was a Lakers unknown who is still, well, a Lakers unknown.
These Lakers are not last year's Lakers. The beautiful flowing offense shows itself only in flashes, with the team relying more on pick-and-roll plays and just their pure talent.
But this is a better defensive Lakers team than last year. Ron Artest has risen to the occasion and caused problems for opposing wings, a healthy Andrew Bynum (well, not right now but mostly) has been a force in the paint and for much of the season the Lakers were on top of the league. Things may not be as consistent as fans or the coaching staff would like, but these Lakers can be a very intimidating defense.
So the Lakers are not as good on offense but better on defense with Artest vs. Ariza? How is that different than what anybody expected before the regular season? Plaschke got Artest to say Ariza is a better player than him, but anybody who has interviewed Artest more than once knew that Artest would give you that answer. Ron-Ron is in the stage of his career where he judges himself by rings, and Ariza has one. Artest admits he is still proving himself — to fans, to teammates and to himself.
For the Lakers the regular season is not where this campaign will be judged. Or this debate, for that matter.
When the games slow down and tighten up, we know Ariza could step up and make plays — key threes and big steals.
Can Ron Artest? The Magic 8 Ball says, "please ask again later." Try mid-June. Because before then, we don't know if Artest is a better fit than Ariza.