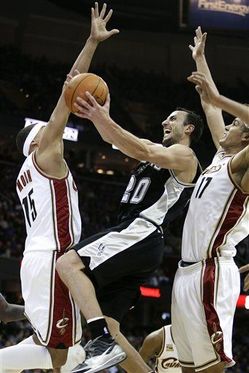 Of all the relevant names involved in FREE AGENT FRENZY 2010, Manu Ginobili's hardly gets the play it deserves. He's a former All-Star, a two-time champion, and has posted six straight seasons with a PER of 22 or better (including this one, which is supposedly a down year). He's 32 years old, and that can't be ignored. But we've seen him swat bats and Durants, and make plenty of big plays.
There was a time where Ginobili had a legitimate claim as the second best shooting guard in the league and those days are gone. That doesn't make him irrelevant, though, and neither shoot the rather substantial shadow cast by LeBron, Wade, and Bosh.
Ginobili's impending free agency does bring his future with the Spurs into question, though, particularly due to the team's reluctance to sign him to an extension. Manu has been absolutely pivotal for the franchise over the years, but the time may be coming where it makes sense for Ginobili and the Spurs to part ways. That's a shame.
Not quite as much of a shame as this report from SLAM Online, though:
Marca journalist Ramon Trecet confirmed via his Twitter
that Real Madrid has strong interest in signing Manu Ginobili next
season. The 32-year-old played for Ettore Messina, now Real Madrid's
head coach, during his stint with Virtus Bologna from 2000-2002. It's
rumored the club may offer Ginobili $10 million Euros, or roughly $13.5
million US dollars — much more than the $10.7 million the Spurs are
paying him this season.

The possible lockout in 2011-2012 has put every NBA player's finances on alert, and that could be serious motivation for Ginobili to play for Madrid next season. The Spurs have always been the center of Manu's NBA universe, and if San Antonio decides to go in another direction, is the allure of playing for the top league in the world enough of an allure for an aging Ginobili?
Could be. Manu is nothing if not a fierce competitor, and I'm sure he would prefer NBA-level competition compared to that in Europe. It should be interesting to see whether or not this rumor actually has legs to it, but the working components — Ginobili's situation, the lockout, the future of the Spurs — all seem to make sense.