UPDATE 3:18 pm: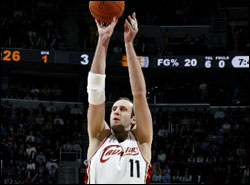 And it's official, Ilgauskas is back in Cleveland as a Cavalier.
"If I would've left and the team won a championship without me," he
said, "I don't think I could've ever forgave myself."
He's right. After all he's meant to that franchise, he needs to be around for a title. Now comes that pesky little problem of winning one.
10:01 am: It's official, Zydrunas Ilgauskas will sign with the Cleveland Cavaliers this morning, returning to the only team that he has ever played for.
In other shocking news, the economy stinks, health care bills are divisive, Toyota has some image problems and Ellen DeGeneres is a terrible fit on American Idol.
Brian Windhorst broke the story on his all-seeing twitter account. But this was expected from the moment Ilgauskas was included in a trade that brought Antawn Jamison to the Cavaliers. The buyout and return was never an official part of the deal, but everyone knew it was happening. A change in rules may come this summer — or as part of the new CBA — to stop this little trade/buyout/return move from happnin.
For now, the Cavs need Big Z back, as they have been losing big men like the team was based in Portland. With Shaquille O'Neal out after thumb surgery, Ilgauskas should get a lot of minutes early. Once he learns all those new plays.