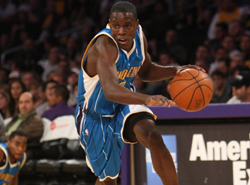 Great. Just what the New Orleans Hornets needed — another eye-popping point guard.
The Hornets roster has more than its share of holes, but the point was not one of them. They already had the best in the league. Every other spot on the floor you could ask questions, but not point guard.
So when Chris Paul went down 25 games ago, what happened — rookie Darren Collison stepped up. Way up. The rookie is scoring 17.5 points and dishing out 10.5 assists per game the last 10. Huge numbers.
Now with Paul set to return and the Hornets out of playoff contention, it's time for a little experiment — playing Paul and Collison together. That's what Jimmy Smith reports at the Times-Picayune.
"It'll give us a sample of games to look at and see how effective they may be together as far as moving forward," Hornets Coach Jeff Bower said. "We'll have that to use from an evaluation standpoint. I think we're going to see things we really like and other things that would have us go in a more conventional approach. This is just going to be one thing we're able to try. It's not going to be an every-minute type thing. But it's a nice option. The biggest thing is to have your most talented players on the floor playing together, being productive."
This pairing has seen a little time together before, but not much and not that effectively — no combination of them is in the top 20 five-man units for the Hornets at 82games.com.
You're not headed to the playoffs, Hornets. Now is the time to try the crazy, like a Paul/Collison backcourt. May not work, but what happens, you lose another game? So what, you get some lottery ping-pong balls. But if it works… oh do you have something teams will fear next season.
That or trade Collison this summer, because teams are going to ask. They are also going to lowball you, too. Don't listen to them. And if CP3 and Collison can play together, what's the motive to trade him anyway?