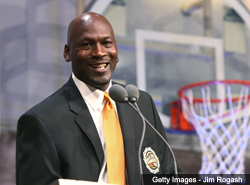 Michael Jordan wrote an open letter to the people of Charlotte Sunday, basically saying "give me a chance." He talked of commitment to the area, of Carolina roots and passion.
It's what you say to a city when you are trying to build a bridge. Particularly to the business community — fans in the upper bowl make for a great basketball experience, but NBA teams live and die by suite and executive seat sales, and by sponsorships. That is where the big money is to pay player salaries.
But as fast as Jordan can build a bridge, former owner Bob Johnson comes behind him and blows it up, all the while whistling the theme from Bridge On The River Kwai. Take his comments Saturday, as reported in the Charlotte Observer.
The (Urban Leadership Institute) presented Johnson with an award moments before he spoke, though the crowd's reaction was mixed after he made his comments.

"Charlotte is a very, how would I call it, close-knit, arrogant, sometimes incestuous town.

"…It's close-knit, and if you come to this town, and you look like you're one of those people that might break some glass … it's going to be tough for them to relate to. The thing that concerns me is that I'm just surprised that the city doesn't do more for African-American small businesses. And I don't really understand that."
Does Johnson really know the Charlotte business community, or Charlotte for that matter? It probably seems like a closed-knit business community to him because it works on a more personal basis — you need to spend time in the city and get to know people before they do business with you. It's not about breaking glass as much as a trust and a relationship. You know, do little things like buy a house in the city. Or not run your team from Washington D.C. Or becoming seriously involved in local charitable causes. Or showing up to games.
In some markets, that personal touch doesn't matter much. In others it's everything. Charlotte is in the latter group and Jordan gets that. He grew up in the area. He wants to build the bridges, if Johnson would stop blowing them up.