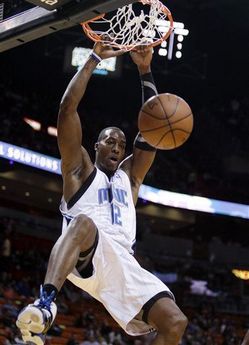 If you looked at him from behind, squinted real hard and added a bald spot, you could almost swear Dwight Howard is Rasheed Wallace.
Yea, maybe not. But apparently NBA referees think so, because Howard is pocking up technicals at a vintage Rasheed-like pace this season. One more and Howard will have 16 — something that earns him a one-game suspension.
It's is a goal Howard told the Orlando Sentinel he can reach in the dozen remaining regular season games.
"I would say I might get it," Howard said Sunday with a smile, eliciting laughter from reporters. "I'm going to try not to, but chances are my emotions tend to fly. I'm going to try [not to get a tech]. A lot of people have talked to me about it. They call me 'Little Rasheed Wallace' and stuff like that."
Magic coach Stan Van Gundy sees a conspiracy man. They are out to get him, just like they did Tupac.
"I don't know if it's personal or they're trying to make a point," Van Gundy answered. "I really don't know. But I've thought the last couple [of technicals] have been pretty cheap when he's not yelling at them, not saying anything to them and the whole thing. But that's just my opinion and it doesn't matter for anything."
There is one way to stop getting technicals… Stop complaining about the calls. Shut up and just play through it like a man. Bad calls happen to everyone.
Nah… just keep talking and get a little vacation. You could use one before the playoffs.