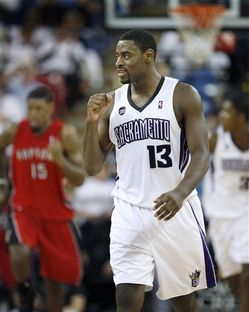 The accounting of his injuries would make you think Tyreke Evans has taken up MMA fighting. And is not very good at it. From the twitter account of the Sacramento Bee's Jason Jones:
Concussion, chipped tooth, gum laceration and x-ray to check for jaw fracture tomorrow morning for Evans.
Damn.
Evans got elbowed in the mouth then his head hit the floor during a loose ball situation late in the fourth quarter of the Kings double overtime loss to the Bucks. He was on the Kings bench for a minute then went to the locker room with his mouth bleeding and did not return.
After the game it was said he would not travel with the team tomorrow to Los Angeles for a Sunday game against the Clippers. Beyond that nothing of his status is known, however if his jaw is broken he would almost certainly be done for the season.
Evans has emerged as the unquestioned leader of Kings and the front-runner for rookie of the year. He is averaging 20 points per game, handles the ball and sets up the offense, and if you prefer PER he leads the team in that as well at 18.5.
Can a guy lose Rookie of the Year with a late-season injury?